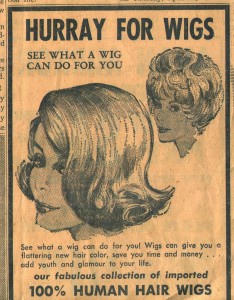 How could you NOT be excited about 100% Human Hair Wigs?!?!
I came across this newspaper ad while scanning some decades-old clippings. Whoever did the clipping obviously wasn't interested in wigs made of imported human hair (or is that supposed to be imported wigs made of human hair?) and so the bottom part of the ad is lost to the ages. But how could you NOT be excited about 100% Human Hair Wigs?
They're every bit as creepy as a shrunken head… with perhaps fewer ethical qualms, I guess. And doesn't EVERY young impressionable child want a shrunken head… I mean, of course, to own a shrunken head, not to have their own head shrunken. My mom owned several wigs when I was growing up, but they were all synthetic, "hairs" that felt like nylon fibres. And since nothing was every thrown away in my house, especially nothing disturbing, I presently own a couple of these weird wonders.
The other aspect I love about this ad is the early-60's glamor. Covering your head with the skullcap of human hair, well, isn't really to much away from wearing a fashionable "fun fur," right?