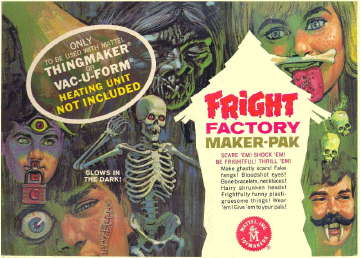 Everything I loved about this toy when I was a kid is summed up in its name: "Fright Factory." It let me make things and those things were creepy. I love it today because of the graphics on the box. (I ran out of "Plastic Goop" years ago.) But the thing is too darned big to display properly. Wouldn't it be cool if I could have this sitting on my desk at work…
So I scanned in the graphics and arranged them all on a page in such a way that it could be printed out and re-assembled into a box. "Papercraft" in a way. The resulting box is just big enough to store 3 x 5 cards, if you really need a reason to make one of these.
If you *do* make one, drop your dear old GrimGnome a note, will ya?