Subtle political commentary, it's not.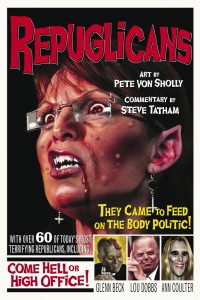 But registering at least 7 on the grin-o-meter is this book of famous Neo-cons done in the style of 70's era monster trading cards. "Repuglicans" recalls the days of Garbage Pail Kids, Wacky Packages and Famous Monsters of Filmland.
And I should probably be happy with that whiff of nostalgia but I'm left wishing for something a bit more.
The subjects chosen are ripe for lampoon, IMHO. They range from morons to traitors who are actively working to undermine American democracy. But "monsters" … maybe.
The pictures are funny as far as they go but I would have gotten a bigger kick if the portrait actually depicted some specific critique. I mean, it's amusing to imagine Glen Beck as a zombie but can you really imagine him yearning for brains? (insert sound of rimshot) As is, the satire doesn't really rise above the level of name-calling, which in my curmudgeonly opinion is a largely the problem with American public discourse these days.
But did I mention, this book is fun collection of political humor?