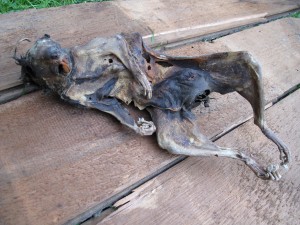 To be honest, very little is nightmarish about the repairs we're making to the bathroom. The buddy of mine who's helping is scary efficient and competent, though he occasionally sings along with the radio which I'm attributing to that irresistable urge to sing while in the proximity of a shower.
The real horror show was the condition of the place before we started: spongy floor, tiles that stuck to your feet (i.e. not to the subfloor) and hidden terrors like load bearing walls with large gaps in the joists.
And one secret tenant.
We found a mummified rodent encased in the wall. It's clearly not the remains of Poe's Black Cat, which is good, I suppose for several reasons, one of which is that I rather like cats. I really can't convince myself that it's a rat – though again that would pump up the goth factor of the Ye Old Homestead a bit. It was, in fact, a squirrel – a kind of creature I have no spare love for – and in its current condition, it's cool as hell. See for yourself: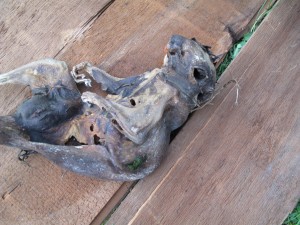 So the stinger to this tale is what my daughter said when we broke the news to her.
Me: "Eric found something in the walls"
Grown daughter: "Was it a dead baby?"
It's the chance exchange like this that reminds me she's my kin, that there was no mix-up at the hospital, no abandoned basket on the doorstep. Where my first thought was a dead rat, like a nice and proper piece of Nosferatu set dressing, Dear Daughter's imagination shot straight to an essential gothic plot device: a buried child.