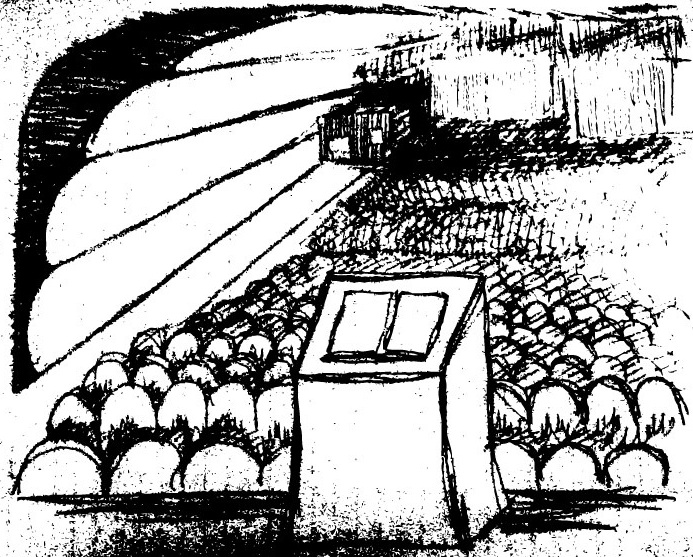 (Female, 20's) The dream I had last night was not a 'scary' dream per se, but one of those uneasy dreams that become increasingly uneasy.
So I show up to teach my composition class. I'm running late and feeling
rushed. I'm carrying an enormous amount of stuff with me, weighed down
with papers and books. I have a backpack that's stuffed full and a
briefcase too, just brimming with manila folders and papers bursting out.
I'm out of breath as I arrive at class– only to discover that we've been
moved to a new room, a bigger room — almost a conference center room or an
auditorium.
My students are already there, spread out over a dozen tables, and since
there are only 20 of them, the wide expanse of tables look a little empty.
I have to turn my head back and forth to see everyone who is there.
And then I notice that the "audience" is made up of more than just my
students– there's also a number of other people there. One notable person
seated at a table, pen in hand, is one of my old professors. In real life,
he is dead now, but in my dream I realize that he's there to "observe" my
class and report on my teaching.
Unfortunately, I can't recall what I have planned to teach in this class
session. Or more accurately, *if* I have *anything* planned for the class
today. Then I really start to panic. I open my briefcase, rifling
through, but my files of stuffed full of papers to grade. Crap– all those
papers turn my stomach.
So I step to the podium, which has a microphone and desk lamp– I wasn't
expecting those. I speak into the microphone, asking my students to settle
down and get out their books and class work. I glance at my watch– we're
already running late.
As I look around, I see that the room is even larger than I realized– like
really, really big. Almost a football field-sized room. Along the sides
of the room, there are shops and houses. Some of the buildings have lights
on and some boarded up.
Then a mass of people start to move into the room, marching in formations,
in between the tables. They are practicing for something. They'd reserved
the space earlier and they have no idea how the room was double-booked.
Neither do I. I have no idea what is going on, but I'm pretty sure I'm not
going to get a very good evaluation.