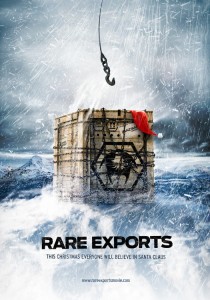 If you believe that Christmas, like youth, is wasted on the young then "Rare Exports" is a film you must see. Elsa and I caught it last night at the historic Michigan Theatre in Ann Arbor and though there are a couple more showings today, I suspect "Rare Exports" is destined to become a holiday classic especially among fans of snobbish, dark fantasy.
The setup? An excavation team discovers the resting place of Santa Claus deep within an icy Finnish mountain but Santa ain't the jolly old soul you might expect. "Rare Exports" is told through the perspective of Pietaari, a young Finn who is just old enough to start questioning the existence of the red suited holiday gift man. At its root, "Rare Exports" is Pietaari's coming of age tale, where he sets aside his stuffed animal companion to perform an act of heroism that he is still child enough to accomplish. It's also a father-son story that doesn't get mushy. The world depicted, in fact, is harsh with no women and little possibility for forgiveness, grace or redemption — but for crying out loud don't we get enough of that stuff this time of year?
I can't see how the film warrants an "R" rating — apart from the terrifying elves (complete with full frontal male nudity,) the slaughter and butchery of reindeer and the mid-twisting revelation of Santa's true being. And a bit of naughty language. "Rare Exports" is not a horror movie by any stretch, more dark contemporary fantasy told with enough wit to keep it amusing. And since much of the dialogue is in Finnish, the mere presence of subtitles earn it high marks on the snob-o-meter. The scenery is gorgeous, well worth seeing on a big screen, even if the big screen also makes the CG look a bit rough. Honestly though, if you're going to fault a film as inventive as "Rare Exports" for not-so-special effects then you're simply NOT in the holiday spirit.
Treat yourself this Yuletide season and remember the REAL Santa with "Rare Exports" — and ditch the kids at home with the X-box and the internet.