Elsa and I attended Penguincon 2012, that glorious celebration of Midwestern weird ingenuity. The name Penguincon might suggest it's only for Linux nerds and though there is a strong track of programming for the silicon-inclined, Penguincon extends the notion of "open-source" deep into culture at large. Fair warning, culture at large. Penguincon overflowed with folks who never listened when someone told them "Don't try that. It's simply impossible." Granted, there was hardly a speck of "horror" in the whole place, Elsa and the Good Doktor here both felt at home in this gathering of eccentric experimentation. These mad scientists know how to have a good time. There were too many wonders in the wunderkammer to list but three come to mind: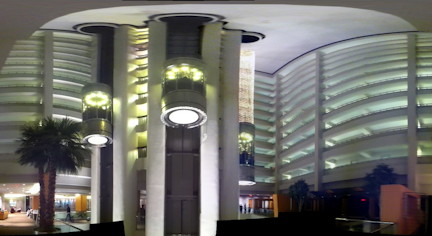 • John Scalzi was the writing guest of honor and his reading with Saladin Ahmed did not disappoint. I know Scalzi's work mostly through his blog, Whatever which I read daily even though science fiction ain't normally my thang. Scalzi was witty and warm, telling insider stories about the stories as he read from his latest book Redshirts, supplemented by the first three *sentences* of his unexpectedly hit story, "Shadow War of the Night Dragons." Please note the date of its original publication. Saladin Ahmed was a gem not to be overlooked. His debut novel Throne of the Cresent Moon is a tale of ghul-hunting and royal power struggles in a fantastic medieval middle eastern setting. I'm reading it now and was glad to get my copy signed. Ahmed knows the tropes of fantasy fiction well enough to present a deeply fresh world populated by the kinds of characters that don't often appear in genre literature. He's a writer who knows who he is and tells stories that spring from a place deeper than just his imagination. Plus he's a Midwestern boy. As at any con, Scalzi and Ahmed appeared on panels with other not-to-be overlooked authors like Jim C. Hines and Ferret Steinmetz.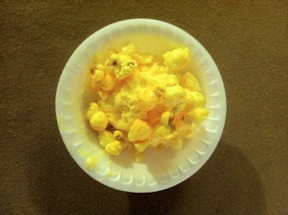 • Eating is good. Sure there was the ConSuite and the Hack of Honor appearance of OpenSoda but the comestibles didn't stop there. I sampled a chocolate laced with coconut rum and Elsa learned the mysteries of making melon caviar. The sad truth is that some experiments fail and the most glorious failure was something I tasted: cheese corn flavored ice cream. It was a near miss in my estimation however, a bit too salty. More conventionally successful flavors I tried were chai tea, chocolate, Dr. Pepper. Perhaps I should mention that the ice cream was made with food grade liquid nitrogen that spewed a cascade of roiling clouds as it darned near instantaneously froze the concoction.
• We brought home a few trinkets and baubles from the dealer room as well: a book by Cat Valente, a crystal ball for the Red Witch, a portrait of that other Doctor laser-engraved into a wood plaque by the folks AllHandsActive, a local MakerSpace… Elsa bought an exquisite striped corset from Ties that Bynde, clearly the best purchase. The charming and indulgent proprietress let her try on several styles.
It was our first time at PenguinCon and neither Elsa nor I knew what to expect. What did we encounter? Wonders beyond belief.