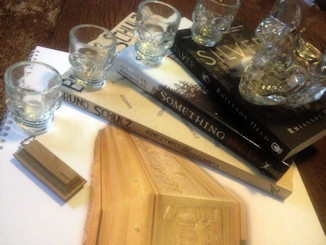 Christmas is simply a horrible time of the year for me personally, emotionally, even existentially. I survived this one by seeking solace underground to daub some paint and tinker with tools, emerging just long enough to behave monstrously. The expectations of Holiday Cheer plus the often disturbingly close proximity of loved ones rankles this mysanthropic recluse.
But the holiday was not without its joys. Like last year, a still life of the gifts I received is an apt portrait at least of whom others imagine I am. My young ones are scattered abroad so all items are imported, as fitting a horror snob. From the Great White North come a set of skull shot glasses is posed here with last year's crystal skull of vodka and a couple creepy novels — Silver
by Rhiannon Held and Something Red: A Novel
by Douglas Nicholas, likely purchased at Toronto's justly famous Bakka bookstore. My son's family have moved temporarily to Poland so I also received a spectacular Polish language art book about Bruno Schultz and his contemporaries — the nightmarish images need little translation — and a pin-up calendar from Lindner, a Polish coffin manufacturer. Yup, sex and death, like chocolate and peanut butter, two great preoccupations that taste great together. Its imagery is NSFW so I only show the cover. I suspect it tells too much about me if I admit I am more interested in the intricate carvings on these hand-made corpse-carriers than I am in the air-brushed beauties draped across them. An unexpected bonus was the casket shaped keychain that accompanied the calendar.
All of us at the DailyNightmare hope your holidays passed with minimal bloodshed and maximal blessing.