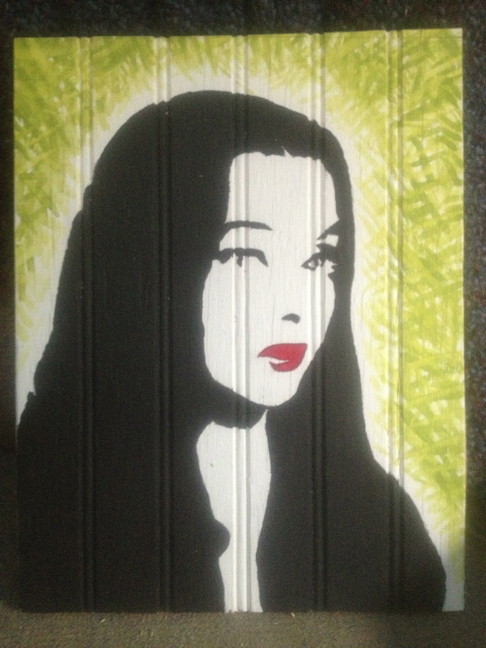 I'm still buzzing from my recent visit to the Rustbelt Arists Market in fashionable Ferndale and the stencil art of Jerry Shirts particularly stuck in my craw. He's a regular there so check out his reasonably priced creations. Eyegor got me a tile of Hunter S. Thompson that now sits atop my dresser and reminds me every morning to be just a bit more reckless.
I'm not usually hip to Pop Art for some pretty egghead reasons but Jerry's stuff made me wish I had a couple artsy representations of a few horror icons from my youth. So I took matters into my own hands and ended up with this portrait of Morticia Addams. I am pretty certain this technique is NOT how the pros do it, so Your Mileage May Vary.
I found an old greyscale image of Carolyn Jones as Morticia Addams on-line. She looks oh so young… which makes me feel oh so old. I ran it through an ancient version of Adobe Illustrator. The feature I used was "Live Trace" and I fiddled with the parameters to get a lightly stylized black and white image. If I had access to a high quality color printer and for that matter, if I knew how to do anything useful with Illustrator, I would have turned it into a poster and been happy. If I wanted to make more than one, I would have been tempted to cut a stencil from acetate or poster board. One complicating factor for making a stencil of this image is the large number of "islands" cut-aways with nothing to hold the piece to the larger stencil. I supposed I could have made two, over-lapping stencils to handle the problem… but I didn't.
I hooked my computer up to a projector and traced the image by hand onto a piece of bead-board plywood I had lying around. I thought the texture would look cool. Then I took a crappy brush and some dollar-store black paint and roughed in the piece. I stayed just shy of the edges then I let that dry overnight.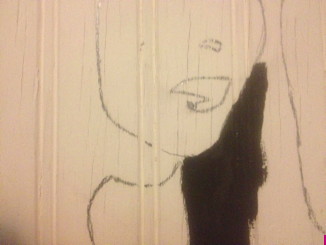 The next night I took a moderate quality, flat shading brush and painted up to the edges. Wow, I was impressed, if I do say so myself. I did little more than paint by numbers and, if I squinted, it looked like Morticia. More or less.
If I had wanted a simple black and white image, I would have printed it out on my laser printer so I figured I'd make her lips red. Same brush but I used some fancier paint — the label says it's "Ruby Red" Textile Airbrush Paint — Lord knows how it ended up in my paint drawer. Felicitously, it was slightly translucent which means the pencil marks at the edges of her lips still show through a bit which gives a bit more pop. Wish I could take credit for that.
For a contrast, I chose green, in fact the same bilious green I had left over from the Creepy Doll Mask I painted last fall. I wanted to add some texture to offset the harsh high-contrasty black on white so I overlaid layer and layer of narrow brush strokes. I had in mind the woven rattan of that chair Morticia always sat in, while Elsa notes it also reminds her of the roses Morticia would decapitate. Sure, whatever. The halo effect is caused by, d'uh, using a thinner, more translucent paint closer to the head and using darker paint toward the edges. It takes on a sort of holy icon feel that I didn't intend but is kind of cool. St. Morticia of the Thorns.
In retrospect, using scrap beadboard was probably reckless (thanks Hunter S.) but for the most part, it works. Up close, the piece is a jumbled mess of textures but at about five feet it coheres into a pretty seamless image, despite the fact that a bead groove neatly bisects both of her eyes. Yikes! I now have plans for a whole wall of Pop Art icons commemorating the Scary Women of Horror. I just need to find an empty wall to hang them on.