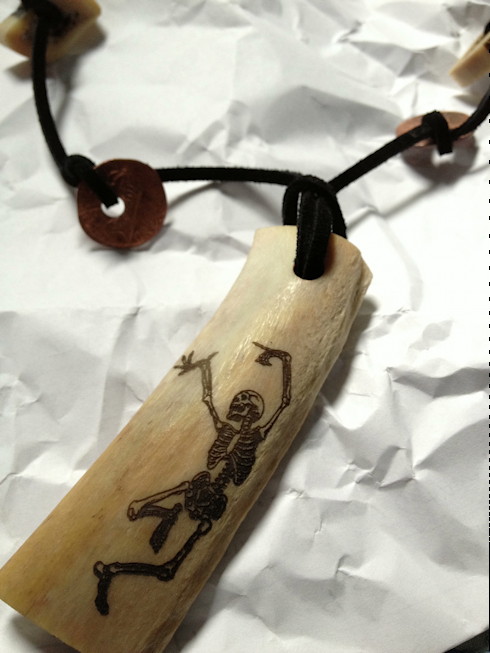 Bones are great. They keep vertebrates erect, provide a handle when consuming meat but most importantly, perhaps is that bones just look cool. They're like tiny sculptures hidden away in flesh. Humans have used bones as jewelry probably for as long as there were bones and humans. So I was delighted to come across Screamshaw.com at the Ann Arbor Mini Maker Faire.
The name harkens back to that age-old artform of scrimshaw, artful engraving on bone and tusk. Screamshaw, I suspect uses more 21st C techniques though the guy at the booth claims they're made under cover of night by a zombie horde. I cared little how they were made because these boney bits were cool as heck. Note: these images are in fact engraved into the bone, not simply printed on top.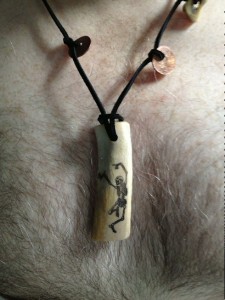 The images available are quite bone-appropriate, too. I was initially struck by the mermaid skeleton since it echoes the nautical origins of scrimshaw, but the image recalled a bittersweet summer fling I had with a Fiji mermaid as a youth, a doomed relationship I've never quite recovered from. Luckily, I found the dancing skeleton image. It fit with the ossuaic medium and expressed my dance-on-the-grave joi de vivre. At the booth, I was able to augment my bone and thong necklace with other bits of bling including some hammered pennies and bone beads. Dig me getting all tribal.
Screamshaw.com is a local business (Dearborn Heights, MI shout-out) but through the website they ship everywhere. I had to stand in line to purchase mine which suggests that all the cool kids will be wearing bone this year. Make sure you insist on genuine zombie quality; insist on Screamshaw.
http://screamshaw.com/