I avoided the Hurricanes, but I imbibed many tasty concoctions while in New Orleans last month. In what I swear is my final post about the World Horror Convention, please permit a brief boozy retrospective: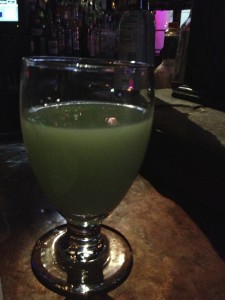 • ABSINTHE •
I vividly recall the first time I tasted absinthe, prepared from an antique crystal water decanter–and poured into a SpongeBob paper cup. They'd run out of the matching glasses, dontcha know. Standing in a garage in Indianapolis at an after party for MoCon IV, I fell in love with the stuff. I've since had ice cream laced with absinthe at Theatre Bizarre and a lovely pour of Pacifique at my favorite cocktail bar, The Ravens Club. Its intense flavor paired nicely with the chicken liver butter and grilled croustilles, BTW.
So when in NOLA, I had to stop at the Old Absinthe House. Bourbon Street was crowded with what resembled a frat party run amok, when Elsa and I ducked into the rather sedate bar on the corner. Their absinthe menu listed a good half dozen varieties and I selected La Fee, a good French style.
The bartender showed me the bottle and proceeded through the highly theatrical Czech "Bohemian" style of preparing the drink. She arranged a sugar cube on a spoon propped on a glass and annointed the cube with absinthe. The alcohol-drenched sugar cube was ignited, its ghostly flames quite impressive in the low light of the Absinthe House. The point of this step, in addition to being cool as heck, is to lightly carmelize the sugar, something rather frowned upon by absinthe snobs. A quantity of ice water doused the flame and dissolved the sugar. It was a generous pour, nearly staggeringly large, but I enjoyed every swallow.

• GIN •
Having laid down a solid base with that killer dose of absinthe, Elsa and strolled down Rue Bourbon, lost amid the beer-sodden zombies and general debauchery, until we spied fellow horror writer David Hayes, author of Cannibal Fat Camp and his crew. He insisted that we follow his entourage to The Dungeon (also known as Ye Olde Original Dungeon.) We don't get many opportunities to hobknob with the Spatter-Satire Elite, so we eagerly tagged along.
Down a narrow corridor and through a thick door, The Dungeon turned out to be –well d'uh– a metal and light BDSM-themed bar where drinks were quite reasonably priced. On the dance floor, black light made my gin-tonic glow so strongly that Marc Ciccarone of Blood-Bound Books asked what I was drinking. "Embalming Fluid," I quipped. Poor Marc took me at my word and asked at the bar for Embalming Fluid. Instead of a cool, glowing drink, he just got a blank stare. Unperturbed, Marc rocked out to the metal.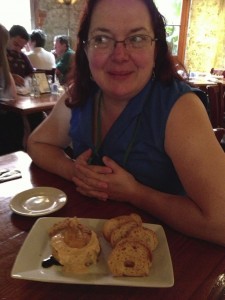 • BEER •
Elsa and I slipped away from the convention another night, long enough for dinner at the Crescent City Brew House, I gather the city's only brew pub.
It's a minor miracle as far as I'm concerned that there are ANY brewpubs in a region where the tap water comes out warmer than my morning coffee. How the heck do they make Pilsener down there? All of the beer I sampled was first rate and the food was great too. Here Elsa poses with a Seafood Cheesecake appetizer.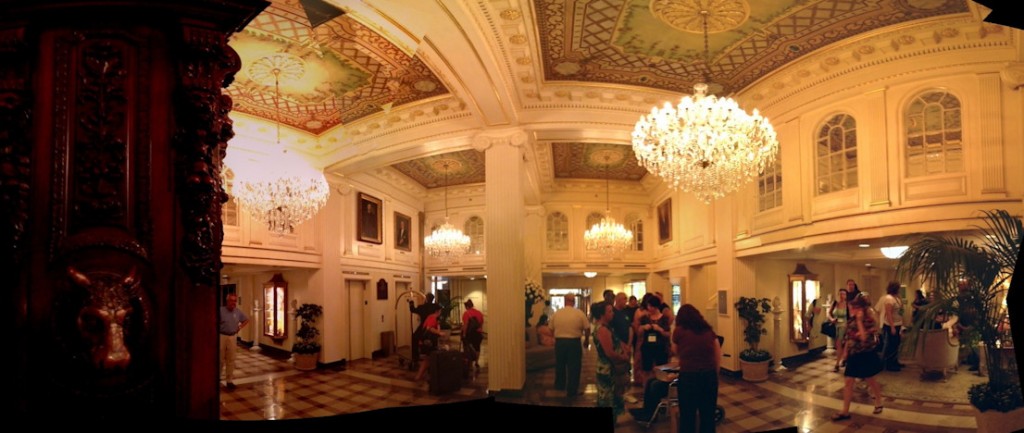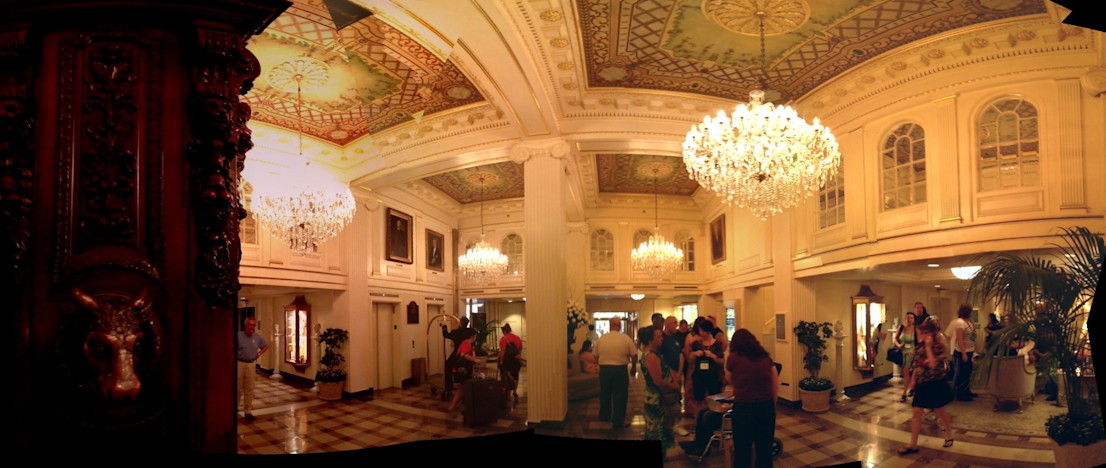 • VIEUX CARRE •
Our last afternoon in NOLA, Elsa and I stepped out from the bustle of departing horror writers who crowded the lobby of Hotel Monteleone and into the relaxed elegance of the Carousel bar. The bar, you dig, slowly spins. In those precious final moments in the Crescent City, I sipped a Vierre Carre in the same environs as Truman Capote, Walker Percy and William Faulkner. A perfect end to a perfect trip.