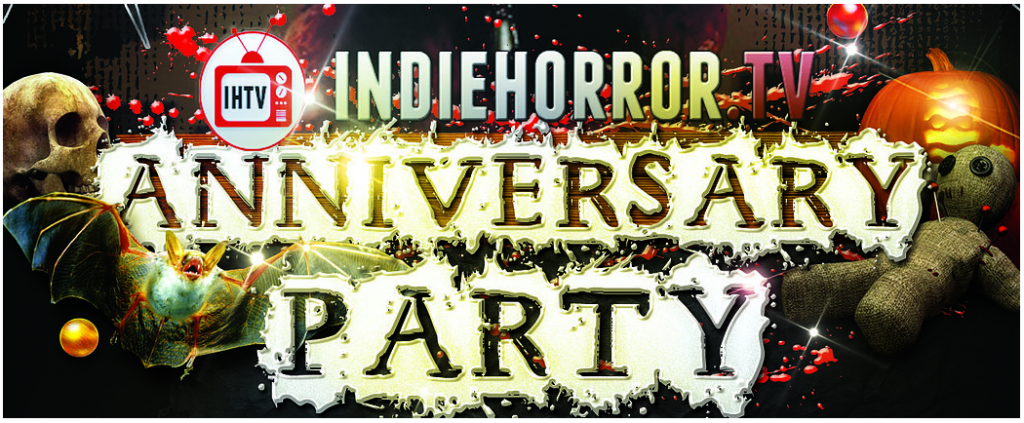 Remember back in junior high, inviting a couple friends over to eat pizza and watch horror movies in your parent's basement on a Saturday night? Those were good times, great times and that's exactly the vibe I got from IndieHorror.TV First Anniversary Party last night… only writ large. Think MUCH bigger, dozens and dozens of friends … and frankly far COOLER friends than you ever had as a loser back in the day. These folks actually MADE the horror films you watched. This party would never fit in your parent's basement, that one with the musty cement floor, weird stains and knotty wood paneling, so imagine it happening in a hall with… wait for it… TWO bartenders and a cash bar! Last night was my pre-adolescent dreams died and gone to heaven.
But then again, that fun, community-oriented experience of watching horror movies together is precisely the genius of IndieHorror.TV. Most weekend nights, Robert Poole and his minions stream independently produced horror films across the web and even better, provide a running chat alongside for viewers to comment– just like we'd do back in your parent's basement. IndieHorror.TV also features chats with the directors and stars of these productions, shot right in their own homes in many cases, where fans can ask them just about anything. Last night's gala recreated all the glee of their internet station LIVE… with actual beer and pizza!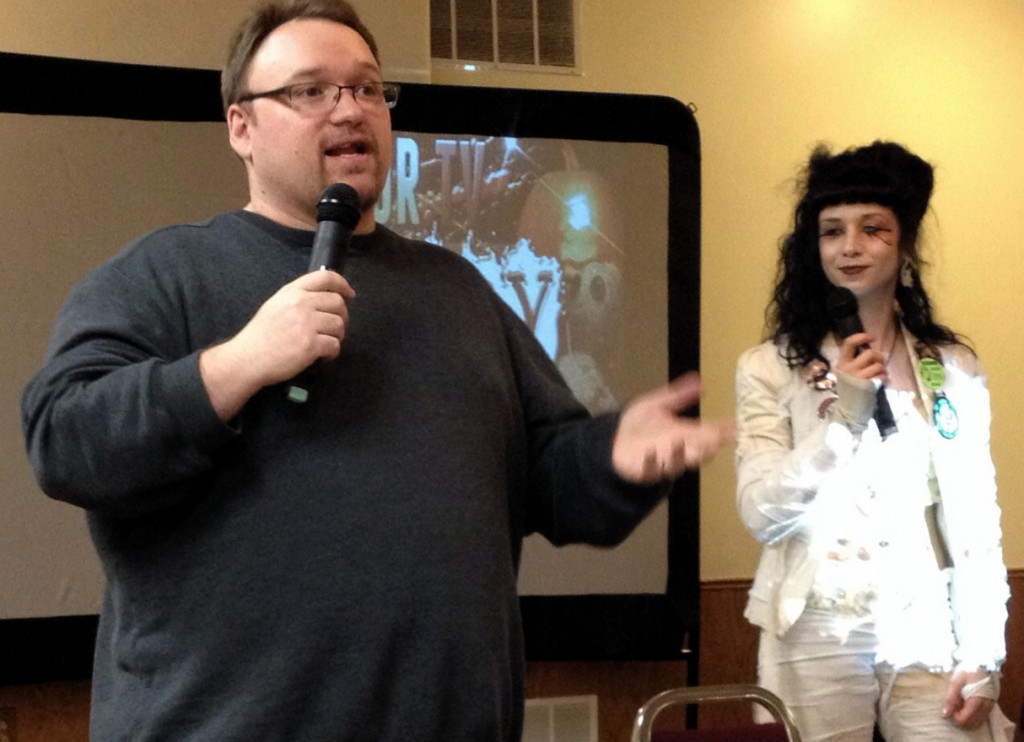 Robert's co-host for the evening was Janet Decay as the "Daughter of the Ghoul," a Cleveland-based horror host. I loved the design of her Mummy-based costume, complete with an eye of Horus embellishing her face, ankh necklace and some strategically placed wrappings. I haven't had a chance to watch her show but her bubbly personality probably translates well to the light-hearted wrap-around skits provided by horror hosts. There's a resurgence of this old tradition, and it's good to see a fresh face.
But the focus of the evening was on independently produced horror films and their makers. The roster included some of the best recent films. Readers of the Dailynightmare already know our affection for "Other" — heck, it won the first annual Impy Award — and also screened was another favorite short of mine, "Green Glass Door" which earned specific commentary when I saw it at Three Corpse Circus in 2012. The feature length film "Found" was a moving, disturbing piece that deserves its own post of commentary, so expect that in coming days. The final film of the night, which was also the very first movie screened on IndieHorror.TV, was "Dead Weight" a film about the human cost of the zombie apocalypse, one with virtually no blood and no zombies. Director John Pata tells a tale that's like McCarthy's "The Road
" coupled with the romance storyline of "Die Hard
." (Don't remember that "Die Hard" had a romance subplot? Why not watch it again this holiday season. It's my favorite Christmas movie.) Between these and other films were snippets of features, trailers and the congratulations sent by directors from literally around the world.


For me, the highlight of the evening was when a half dozen independent film producers took chairs onstage for a live Q&A. Tyler Schmid, Dustin Mills, John Pata, Derrick Carey (of "SwampHead" and "Hole in the Wall") and Matt Woodbury (of the ghost town documentary series "Pop. of Zero") joined Janet Decay and Robert Poole for a friendly session of ask me anything.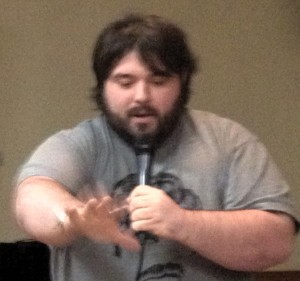 Here Dustin Mills — director of "The Ballad of Skinless Pete" and "Puppet Monster Massacre
" — perfectly demonstrates the reverent awe that some viewers have when meeting the directors of independent horror. While respect is always appropriate, these are just regular guys, making the films they want to see, using whatever means they have at hand. Dustin noted that small budgets are not really an impediment to realizing a vision, while explaining how he shot an airplane crashing into a sasquatch.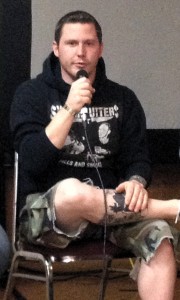 John Pata, director of "Dead Weight," "Better Off Undead" and the brilliantly titled "Don't Go to the Reunion
" is shown here extolling the sense of community shared among Wisconsin-based filmmakers. Pata also runs the Oshkosh Horror Festival — a weekend of horror films that runs every October.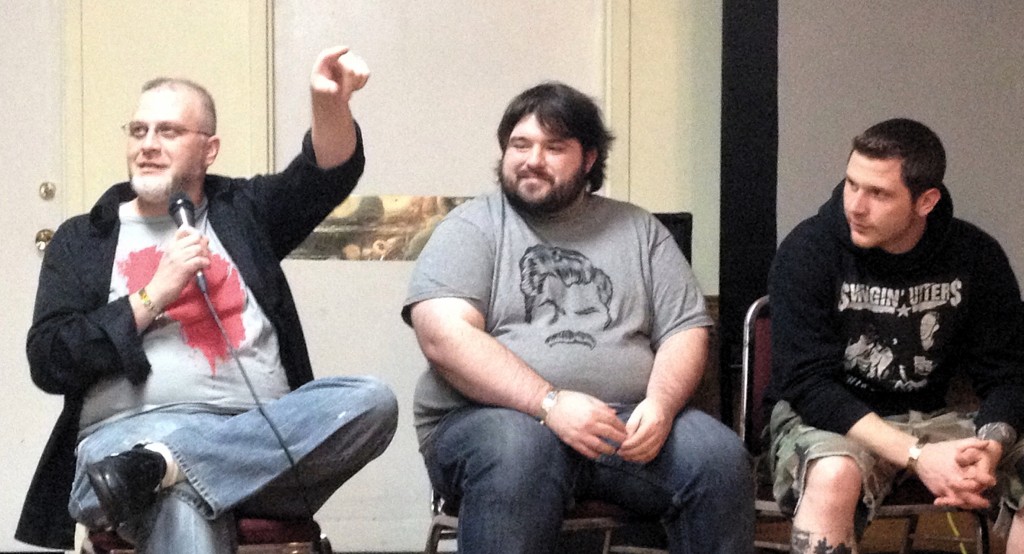 Tyler Schmid, director of "The Guy who Cried Wolf" and the monthly horror-comedy shorts series "Midnight Frights" is just wrapping up post production on "Remission," a post-apocalyptic feature whose storyline he describes as a tragedy. Tyler drove all the way from Nebraska with only an iPod of Yes and Rush to keep him company and here is shown pointing toward the bright future for independently-produced horror film as if it's a gift shoppe located just down the road a bit.
I have every reason to believe in that bright future as long as endeavors like IndieHorror.TV continue to beam across the internet that warm sense of community and camaraderie I recall so fondly from the chilly basements of my youth. Congratulations, Robert, on your first year!