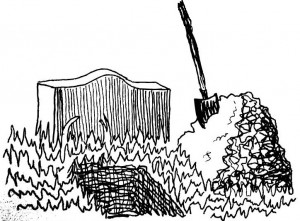 (Female, 60) In this nightmare, I was at the home of an acquaintance. Susan is a bit bossy and demanding in real life and can even be a little bit scary because she's so self-assured, but nothing as extreme as dream-Susan! I've really been to her house, which is a large modern house on the outskirts of town, and again, it was nothing like where I was in the dream.
The dream started in the garden. I actually met Susan through a community gardening project, but in this dream, that garden was in her huge backyard, surrounded by a high brick wall. A group of people from the gardening project were meeting there to work in the garden, but unbeknownst to us, Susan had hired a group of professionals to come in and tend the garden first.
The people she'd hired were supposed to remove the weeds, but instead they'd completely destroyed the garden. They had dug up all the plants and moved them into design of four plants in a row: four roses, four carrots, four horseradish, four corn stalks, etc. The landscapers had done this to the whole garden! They'd thrown out all of the other plants. Talk about a nightmare, from a gardener's point of view!
Then things got weirder. My husband showed up, and he and I went into her house, which was a huge rambling Victorian building in really excellent condition. We walked through the house and discovered that Susan had a crew of orphans working for her. There were dozens of children in Victorian factory-like conditions doing laundry, working looms, and manufacturing parts in a spotless tool and dye shop. It was ridiculous.
My husband discovered a storage space that had a window which opened on a room with a conveyer belt. Items were stored on the belt, and when the controls were operated, the items moved passed the window where you could grab them. I think he was just playing with the controls, figuring out how they worked, when we spied something odd– was that a severed head that just went by?
What kind of person was Susan anyway? The kind who destroyed a garden and kept enslaved orphans working in her basement, who had a severed head in her storage closet? We were obviously in danger.
Now he had to work the controls faster to get the long long conveyer belt to circle around and come back. He had to do it quickly before we were discovered. And then we heard Susan's footsteps upon the stair.