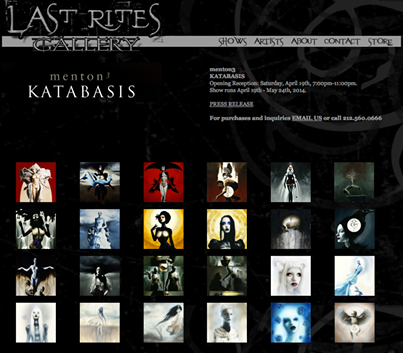 If the Doktor and I had our druthers — and a large travel budget or a private plane–, I have no doubt where we would be tonight: at the opening of Katabasis, menton3's first solo show at the Last Rites Gallery in New York City.
We discovered menton3's work through his Kickstarter campaign, back in February. We were impressed by the work as well as the well-run campaign. Tobias Buckell and others have referred to the three leg approach necessary for a successful Kickstarter: a great project, a track record of delivering projects, and a network of support. It was obvious from menton3's Kickstarter that he had all three aspects in place and was ready to run with the funding he received.
What will we be missing out on tonight? Alas, the preview alone convinces me that we are missing something quite extraordinary.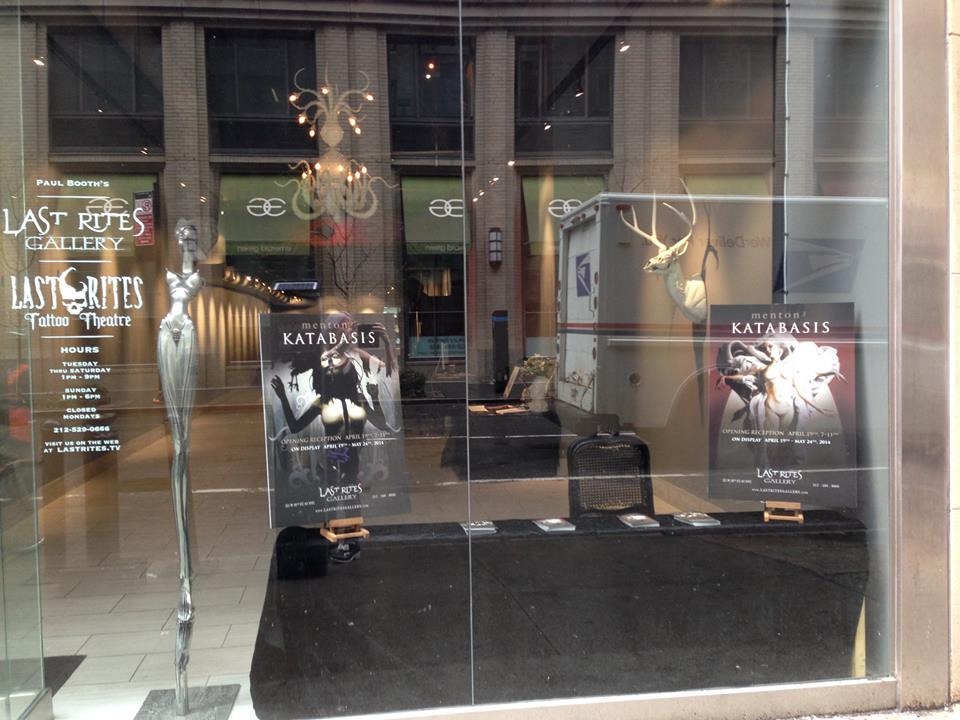 According to the press releases, the Katabasis show is inspired by both the journey to the underworld and the journey within. The work on canvas is personal yet universal in appeal.
From the paintings, we see menton3's hero or character is often a strong and beautiful woman. His paintings show control of shape, color, line and placement. The creatures presented are gorgeous bodies haunted by strength, beauty, and grace. They float and move on the canvas, suspended yet living. The work draws from a wide range of influence, spirit animals, geometry, symbols, and even comic book design. (Menton3 may be also known for his work on Silent Hill: Past Life
and album covers for Carnifex, for example.) We are attracted by the strong lines, the muscular symbols, the familiar landscape of dreams and fantasies, and we viewers are invited to layer on our own interpretations.
Menton3's show has also led us to discover Last Rites Gallery in New York City and to place the gallery on our list of must-visit places. This lead to a recent purchase which graces our walls and, I am positive, future interactions as well.