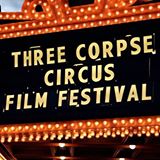 The Three Corpse Circus is soliciting submissions for their 5th Annual Film Festival coming up in October, 2014.
The Three Corpse Circus event brings together horror artists and fans to enjoy their passion for the macabre at a day-long film screening.
Their objective is "to promote talent and honor success in the horror genre and to build a thriving horror community in Southeast Michigan that is connected to the world."
The Three Corpse Circus ONLY accepts original films that fit the description of horror, sci-fi horror, nightmare, weird, suspense, thriller, and/or horror-comedic. Content that would be considered discernibly pornographic will NOT be accepted. The broad categories shown at the event include animation, documentary, experimental, fantastic, fiction, terror, horror, science fiction, weird, strange, and nightmare. There's truly something for everyone.
All films must be submitted by August 9, 2014. Films submitted after July 11 pay a late fee. Any submissions received after the deadline may be considered for next year's festival.
Notification of acceptance into the 2014 film festival will occur no later than August 24th.
For more details about joining the Circus, visit the Three Corpse Circus' submission link at Festhome.