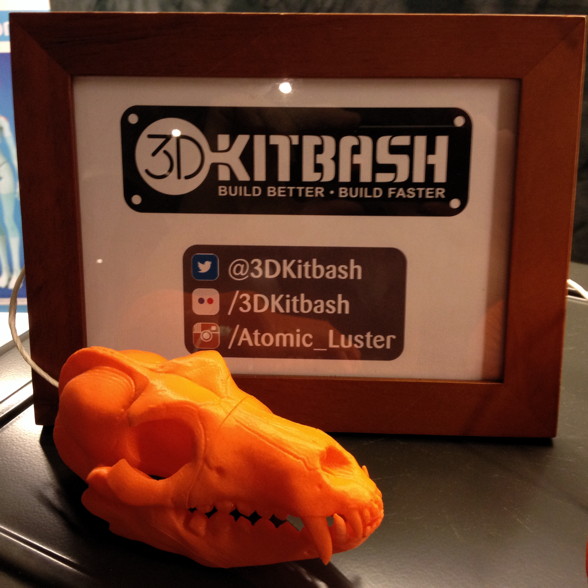 You felt like a Mad Scientist, didn't you, the day you got that 3-D printer, whether it was a MakerBot, a Cube or a home-brewed RepRap… but, admit it, the let-down set in as soon as you tried printing your own skulls. Brain bones are wickedly cool but also notoriously complex items to model. The devious geniuses at 3DKitBash have you covered with their high quality digital 3-D models, shown here printed in an oddly appropriate hunter's orange.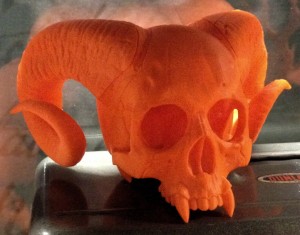 Their "BoneHeads" collection features models of various skulls, including dragon, sabre-tooth and alligator, all rendered with lovingly organic-feeling texture. At least of couple of the models even have working jaws and I noticed one of the collections came with a femur model, handy for printing an actual skull and crossed bones. But any rec-room Dr. Frankenstein knows the demented potential for mix and match given 3-D files. 3DKitBash is already ahead of you. A human skull with the ram horns makes a quite effective demon skull but frankly, my favorite bit of kitbashing was their jackalope skull. Alas, I didn't get a good photo of it but it's prominently displayed on their website. Be sure to download the wall trophy base, when you buy a collection so you can display your skull… that is, unless you're planning to insert it into the head of your next nightmare creature. Be sure to check out the "Free and Cheap" section to grab the "Monster Parts" collection.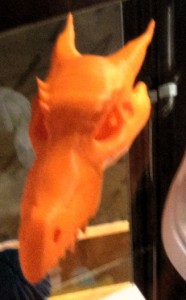 Elsa and I had a pleasant chat with Quincy Robinson and Natalie Mathis of 3DK at the Maker Faire Detroit this past weekend. Quincy was a professional toy designer before launching 3DK a little over a year ago with a remarkable 3D printable fashion doll named Quin. They've run a couple successful Kickstarter campaigns including one for a rather ingenious kit to test the calibration of your 3D printer. It's exciting to find creative folks making cool stuff in the Midwest– 3DKitbash is based in Cinncinnati! And popular stuff too: their "3DK Launcher" toy, a free download from their site, has had over 22,000 downloads.
I get it, seriously I do. You're an Evil Genius, so I know you *could* learn CAD software, wrangle your own scans, burn through a million test prints and come up with your own 3-D skull models. But wouldn't you rather just print some first-rate skulls and get on with your other plans for World Domination? If so, 3DKitbash is your Igor.