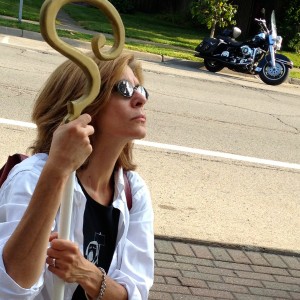 Just when we thought October could not get any better, nerve's production of Alice graces all the remaining weekends of the month. We have been following the development of this immersive theater experience with great interest and caught several of the pop-up lead-up performances, including "Welcome to the Rabbit Hole" and "Brillig". Playing along with the characters in those settings has only heightened our anticipation for the production. Be advised that tickets are available through advance sales only; a special Halloween performance invites the audience to enjoy donning costumes and joining in a non-tea party.
This week, I had the chance to sit down, albeit electronically, with director Kathe Koja, and ask the questions that have been weighing heavily on me about the origins and influences that will bring Alice to the stage, as it were. Her answers and insights reveal the excitement and magic that underlines the creativity generated in nurturing live productions.
DailyNightmare: Honestly, I know you mostly through your fiction. What first attracted you to live theatre? Did something in particular solidify your interest enough to found a company?
Koja: It was the Poppy that brought me to theatre as a maker. After collaborating to create the book trailer, I saw that this novel had a performance dimension I needed to explore, which led to lots of research, a trip to the Boston production of Punchdrunk's "Sleep No More," and then to my own series of Poppy pops-ups, culminating in the full production in April 2013. And, since outrageous amounts of fun were being had, and it was a new way for me to create a story … Here we are.
DailyNightmare: The risks of live theatre are like the risks of life in that they don't all end in horrific tragedy. Can you share any happy accidents in Nerve's history where unplanned events turned out wonderfully?
Koja: Not to tempt fate, but so many of our accidents have been happy ones! Such as: the music director of the First UU in Detroit volunteering not only to play the church's glorious pipe organ for our FAUSTUS performances, but select and devise music for us, too. Or the turn of the century desk-that-turned-into-a-bed that was discovered in the POPPY venue basement (by its owner, who texted me "Guess what I found for Rupert's office!"). We work to leave room for the gifts we receive, every time.
DailyNightmare: Nerve specializes in totally immersive theatre events that provide a playground for grown-ups. It's been a long time since some of us played, however. Are there specific qualities a prospective audience member should remember to bring to one of your performances?
Koja: To get the most out of a nerve performance, curiosity is your best tool: come ready to explore, and to interact with the performers if they reach out to you – or not, if you wish to be a viewing patron only. There's no "correct" way to experience one of our events. But whichever way you choose, give yourself permission to let the moment happen, and let yourself play.
DailyNightmare: Immersive theatre offers satisfactions that are somewhat different than the climax of a tightly constructed plot. Do you have any tricks or tips for opening up a narrative or a script to allow the multiple lines of engagement?
Koja: Performative fiction is our name for what nerve does, and it's exactly that, opening up a text (book, play, whatever) to allow us to play in the interstices, and find the way not through the story, but into it. To immerse ourselves, as if it were real live life, so we can open the door for the audience to join us.
DailyNightmare: What the heck is up with the puppets?
Koja: Oh, the puppets. Are there any actors more theatrical, more indestructible, more beautifully inscrutable? I had no idea I was a puppet partisan until I started researching Under the Poppy, and I immediately loved the playful anarchy that is the puppet's natural habitat. They are fully free as performers, they can do anything…. And a puppet need not be a traditional figure – our constructed co-performers, from the POPPY trio to Helen of Troy in FAUSTUS and Puppet Alice in ALICE, have no strings attached at all.
DailyNightmare: Why Alice?
Koja: When we started to think about adapting "Alice in Wonderland," we had to answer that question first – there have been a whole bunch of Wonderlands, why one more? The answer nerve embraced was Alice as everyman/everywoman, as a traveler through life, exploring (or caught by) the way-stations of dread and pleasure, codependence and capitalism, chaos out of hand … Hence: ALICE. Alice alive to the human condition, as the Carpenter who made it all and the Pale King who spins it all enact their endless dance. It's a morality play, with violence and tea.
DailyNightmare: I've experienced a couple of the pop up performances. They have their own delights but how do they relate to the full production? i.e. are they advertising to build buzz, or rehearsals of fragments or actor prep exercises to learn audience provocation…?
Koja: We offered four pop-ups to lead the way into ALICE: "Welcome to the Rabbithole," "The Pale King's Tea," "Brillig!", and "Follow Us to Wonderland." Each was a facet of the larger story, a way for people to meet the characters, a way to open the door of Wonderland into the "real" world. And a way to have fun with chalk, plastic flutes, a storefront stage, and the quality of the sunset seen through rain. And for nerve to make new friends.
DailyNightmare: Even though DailyNightmare is ostensibly a "horror" website, we feel that horror is best seen as the handmaiden of hope. What are a couple things that fill you with hope right now, in the world, in culture, anywhere?
Koja: What gives me hope always is the optimism of the young – not just in years, but young-minded, elastic, questioning, brave – that keeps the wheel of life turning. Pain is inevitable, but play gives us the energy to continue. Which is why I insist on fun: that's where grace resides, where the mystery comes in, to give what we most need but never could expect.
Thank you, Kathe, for this interview and for the invitation to come play with Nerve in a new and novel Wonderland this month.