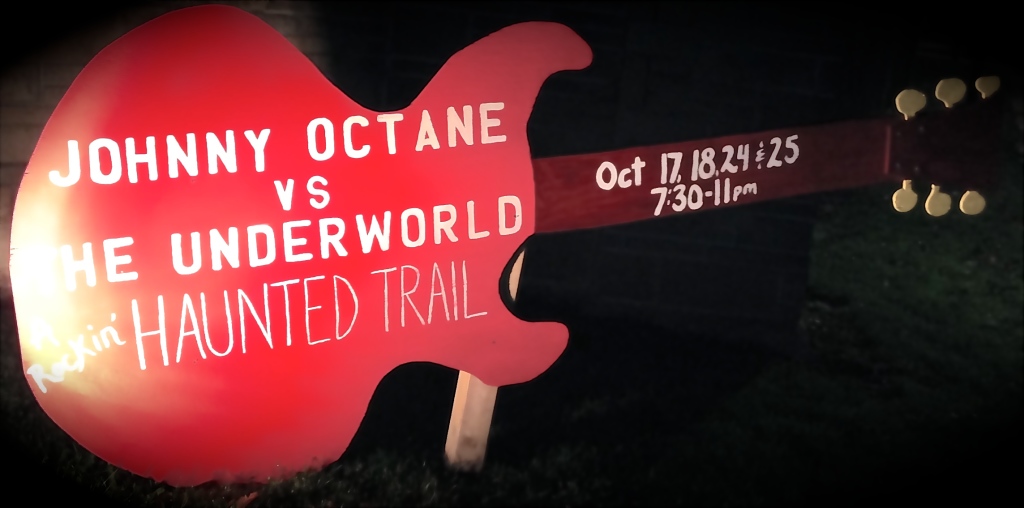 How far would you go for true love? The ends of the Earth? The Underworld? Marshall, Michigan?
Friday night found the Doktor and me walking hand-in-hand down the annual Haunted Trail in Marshall, this one titled "Johnny Octane Vs. The Underworld: A Rockin' Haunted Trail". This interactive environmental theater event led us through the story of rocker Johnny, who vows to give up music after the death of his true love, Trudy. He, his gang, and his fans, played by our audience group, learn from a graveyard ghoul that there is a way to heal his broken heart: Johnny must travel to the Underworld and bring Trudy back.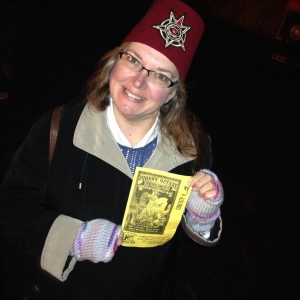 Watching such creepy tales played out along the eerily lit trails of Riverwalk Park has become a Halloween season tradition for the Leech Doktor and myself. This was the 22nd Haunted River Walk written and directed by Brodie H. Brockie and put on my the Marshall Recreation Department and Keystone Entertainment. The sets are distributed throughout the park and crafted with obvious love for understated detail. Read the names on the tombstones. Thrill to the bone-guitars. The staging makes the most of the park's foliage, river and trail ways. The Haunted River Walk is no run of the mill, jump-scare-infested "haunted house" but resembles more hip community theatre with all the enthusiasm of a small town working together, which makes for a very fun evening. Sure, the performance included spooky make-up, wild costumes and a couple obligatory-monsters-popping-out-from-behind-trees that we've come to expect, but also howling werewolves, ominous warnings from the recently departed, a pompadoured demon and a climactic battle of the bands. Does Halloween really get any better than rockabilly in Hell?
The final night of "Johnny Octane Vs. The Underworld" is tonight, October 25th from 7:30 until 11:30pm. Parking is at 900 S. Marshall in Marshall, Michigan. Admission is $8 per person at the door. The structure of the story and the large turnout meant that we spent some time in the waiting area, watching a vintage horror film projected on the side of a garage and surrounded by kids in Halloween costumes playing tag. It's great family-friendly fun worth the wait… and the trip to Marshall.