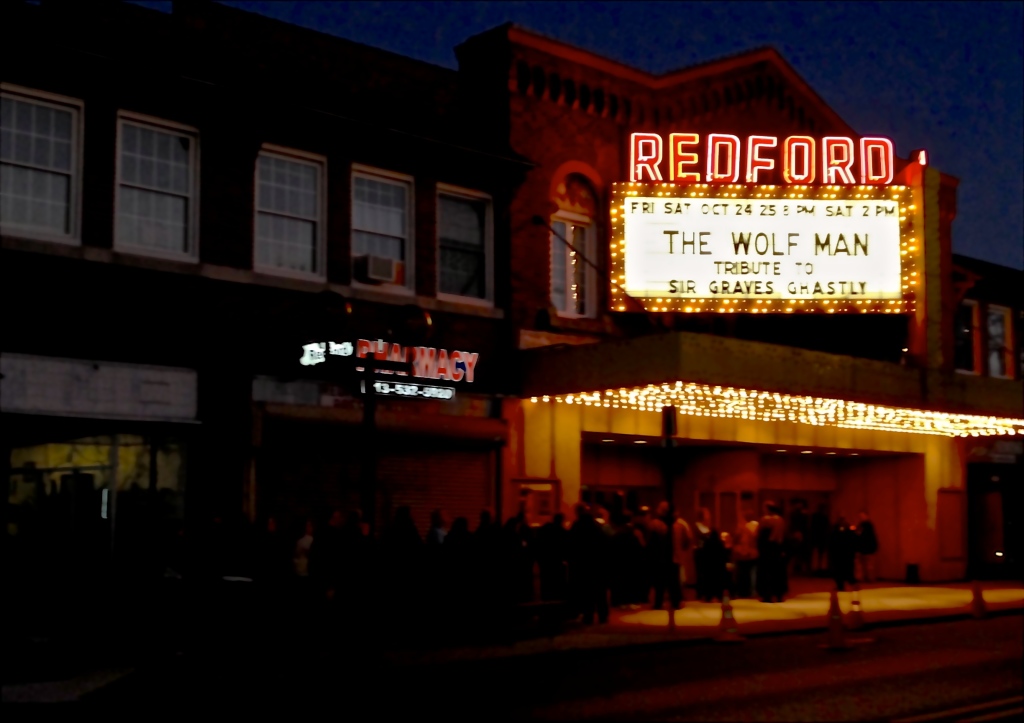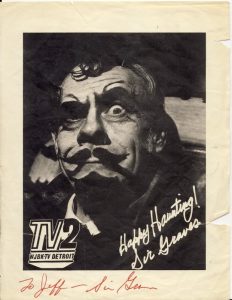 Lawson Deming may have shuffled off this mortal coil in 2007, but Sir Graves Ghastly, the campy horror host he portrayed from 1967 – 1983 on TV2 in Detroit, lives on as a fond memory for thousands of metro area residents. This weekend, the historic Redford Theatre, celebrated the career of this lovable vampire with a special showing of "The Wolfman (1941)" with all the trimmings. The film itself was a crisp 35MM print and, interspersed throughout, were skits from the original show as well as vintage commercials for Faygo, Mr. Belvedere and Busemis pizza. During intermission, there was a laugh-off as contestants tried to mimick that classic Graves "nyah-ah-ah" as well as an art ghoulery of children's drawings, a beloved segment of the original show.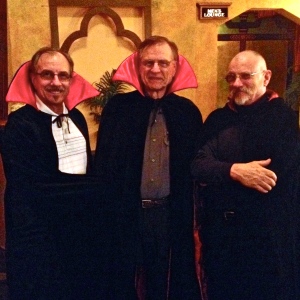 Three of Lawson's sons also attended the tribute, traveling in from Cleveland, Baltimore and Los Angeles, to share their loving memories. With so many contemporary celebrities proving themselves to be personally reprehensible, it was great to learn that off-screen the guy in the cardboard coffin was a loving father who enjoyed fishing and gardening.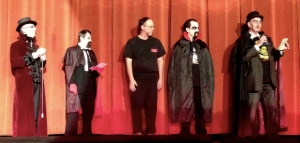 The little touches made this tribute note perfect. Before the show, we were serenaded by a theatre organist while a slide show ran images of Halloween from the 50's, 60's and 70's. Snapshots of kids in their dime-store costumes, ads for candy and TV shows like "Bewitched (1964-72)" and "The Addams Family (1964 – 66), even the occasional Wacky Package or Trading Card vividly set the stage for an evening of Hallowe'en flavored nostalgia. This was Pop Culture from an era before Entertainment was Big Business reaching its cynical tentacles into every pocket. Sir Graves Ghastly and his ilk were more "Mom and Pop Culture." I had to grab a souvenir of the evening, a t-shirt emblazoned with "I Dig Graves," one that was produced on the spot.

I am embarrassed to admit that this was the first time I've visited the Redford Theatre. It won't be the last time I visit this grand old time movie palace, rich with (mostly) restored chinoiserie. The auditorium is done up like the courtyard of an Asian palace, complete with twinkling stars overhead. The lobby has chandeliers shaped like Japanese lanterns. The concession stand popcorn comes with real butter! This noble structure hosts a robust film series, too. Find any excuse to see a film there, perhaps the Hallowe'en showing of "Ghostbusters (1984)" or the midnight movie of "Evil Dead 2 (1987)." (Trivia Tidbit: the original "Evil Dead (1981)" had its WORLD PREMIERE at the Redford.)
As Sir Graves exhorted us every Saturday afternoon so many years ago, "Happy Hauntings!"