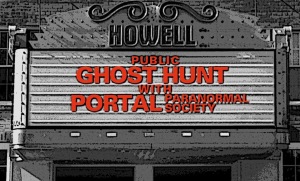 When my buddy and fellow horror writer, David C. Hayes invited me to hunt ghosts at a fundraiser for the Historic Howell Theater, I only had two questions: Would I get to wear an unlicensed nuclear reactor on my back and could we please, PLEASE cross the streams? My droll Ghostbusters references aside, Elsa and I jumped at the chance for another weird-thrill date-night. The evening was a both an opportunity to check out the newly-reopened Howell Theater as well as a fun introduction to professional spectre detecting led by members of the Portal Paranormal Society who provided all the necessary equipment — alas, they neglected to bring a proton pack, P.K.E or the Ecto One.
I was eager to check out the Historic Howell Theater for very non-paranormal reasons– David clued me into the exciting direction it has taken since re-opening in September. New owner/operator Tyler DePerro has a flair for distinctive, slightly off-beat entertainment. The newly rebuilt stages in both theaters have allowed concerts and storytelling events in addition to an exciting collection of films, both classic and art-house contemporary. For instance, the Howell Theater just completed a retrospective of Roger Corman movies complete with introductions provided by David Hayes himself — he's kind of a small-c celebrity in these parts. Check out their website and sign up for the mailing list to keep informed of what's happening behind the fabulous retro marquee right on the old town main drag of Howell. My word to the youth of America: you don't really experience a film when you watch it on your phone.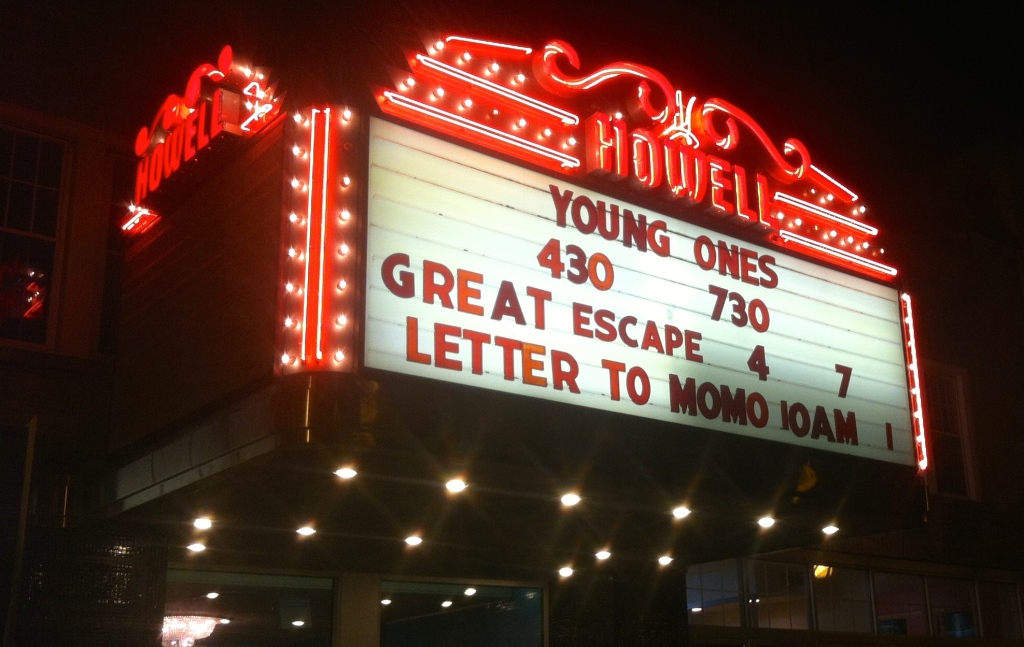 For the past three Saturday evenings, after the last mortal movie patron has departed, the Portal Paranormal Society has reached out to the ethereal residents of the Howell Theater. Elsa and I were glad to catch the last of these public investigations. We huddled with David and his wife Sandy in the lobby along with roughly twenty other amateur spook-sleuths while Lead Investigator Ken Suminski briefed us on their research about this "active" location. Even before it was a theater, this spot was used as a temporary infirmary for soldiers wounded in the Civil War, some of whom likely died there. Later, when the area was Town Square, traveling entertainers would perform and in fact, the PPS verified that a circus lion was buried on the spot. One of their researchers had previously experienced both audible growls as well as a spirit rush from a spectre the size and shape of a lion. When the Howell Theater opened in 1928, vaudeville acts performed there in addition to movies and the team had encountered one particularly unhappy ghost backstage in one of the theaters. Even if someone gave absolutely no credence to paranormal phenomena, it was a treat to learn bits of this narratively rich history.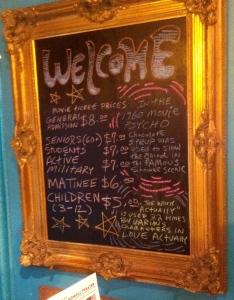 The rest of the evening was a delightful traveling banquet where we sampled different techniques in different parts of the theater. In one auditorium, we did EVP, asking questions and allowing time for the spirits to reply while a recorder monitored results. One cool innovation that PPS uses is a spectral sing-along. We sang famous movie songs, stopping halfway through certain lines to see if the ghosts would continue singing without us. When it came time to ask questions of these beings in the great beyond, I found myself rather stumped. What *would* you ask ghosts in a theater? Elsa had the best idea, though too late to try: we should have ran classic movie lines that were themselves questions like "What are the 39 steps?" or "You know how to whistle, don't you? Just put your lips together and blow." The nature of EVP, unlike more direct methods of contact like a Ouija board or table-rapping, is that we won't know what we got until the team reviews the recordings. PPS researchers took our email addresses and promised to share results once they'd analyzed the data.
In the other auditorium, we used what I think was called a "Spirit Box," a radio that continuously scans radio waves. This technique gives immediate audible feedback to questions asked, but due to the constantly changing reception, such inquiries need to be more focused than with traditional EVP. I found the rhythmic, pulsing sussuration of the device rather mesmerizing, almost like noise collage music, and quite calming — I sensed no malevolent forces at play here. We asked all the questions we could think of and got at least a handful of responses.
The final area we investigated were the two attached projection booths where a silhouette had been seen on other occasions. Here we used a flashlight rigged so that the slightest impulse could cause it to flash on. Alas, it didn't, at least not for us. The flashlight in the other room evidently was quite responsive which is not to say we had no unexplained responses. The most exciting result we had involved the door and a rap against the wall that was so loud it was heard downstairs. In the half-light, it was also cool to see both the modern digital projector as well as the huge antique 35mm projector.
As a final spiritual resting place, there are certainly worse places than the Historic Howell Theater. I know I'll be back, likely with Elsa though few events could rival this Ghost Hunt for such a memorable weird-thrill data-night. (When I spoke with Ken, he suggested there might be more of these semi-public events in the area. Check out the Portal Paranormal Society website or friend them on FaceBook for updates.) As I entered the first theater, I removed my coat and rolled up the sleeves to allow more skin in case the ghosts wanted touch contact– I don't think Elsa would be jealous of a chance, spectral caress. I also scanned the room for shadows, areas of darkness within the darkness. At befitting a theater, much of the reported activity here has been visual, I was told. I was struck by the feeling that I should remember this experience when people ask me where I get the ideas for my stories–I get them by looking for things I'm not supposed to see, putting into words things there aren't already words for. I am far from a skeptic and have experienced many weird phenomena over the years, for likely many reasons. I hope to live long enough to experience much more– I hope at least some of them with my beloved Elsa — and as far as I'm able, to put those experiences into words.