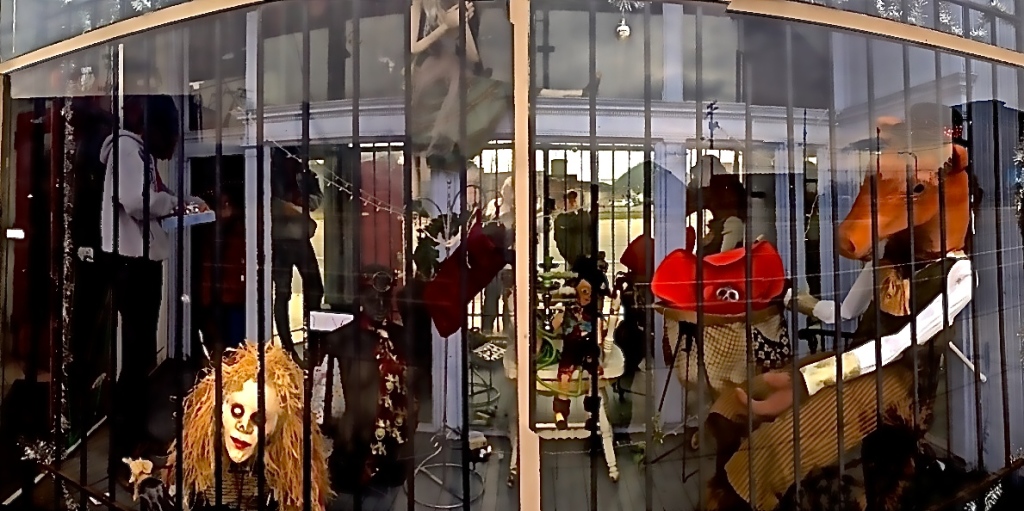 Elsa and I had a play-date with Nerve, Detroit's "consensual theatre" company, to assist their puppet all-stars who'd decided to cavort in the window of their Corktown rehearsal space. Director-provocateur Kathe Koja led us downstairs to where the cast and a few helpers had assembled. We'd been here before for "Welcome to the Rabbit Hole," one of the pop-up pre shows for Alice, but this was our first introduction to some of these performers "in the flesh," so to speak.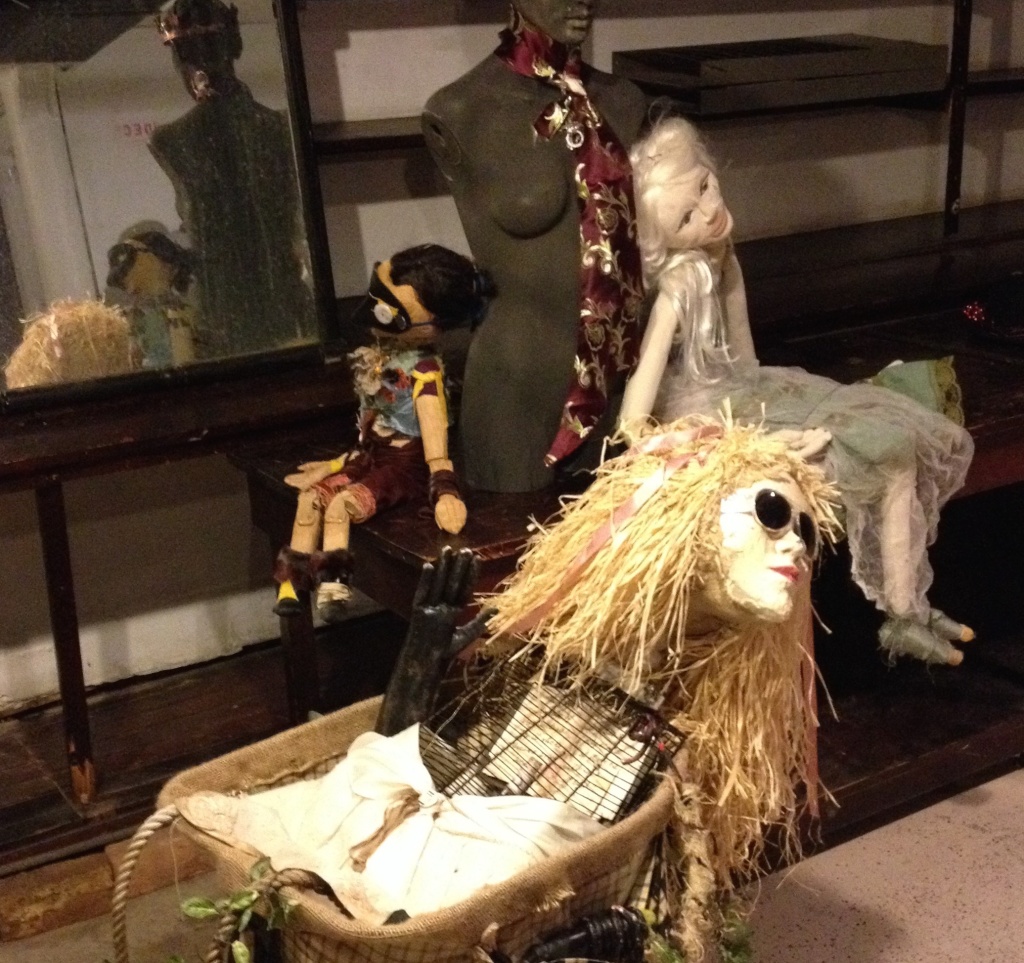 The Chevalier, Lucinda and Pan Loudermilk from "Under the Poppy," joined by Helen of Troy from "Faustus" and Alice from "Alice," mugged for the camera as we helpers improvised the narrative for the display. It was a joy to encounter these puppets intimately, to heft their torsos and work their limbs. Each has a specific glory.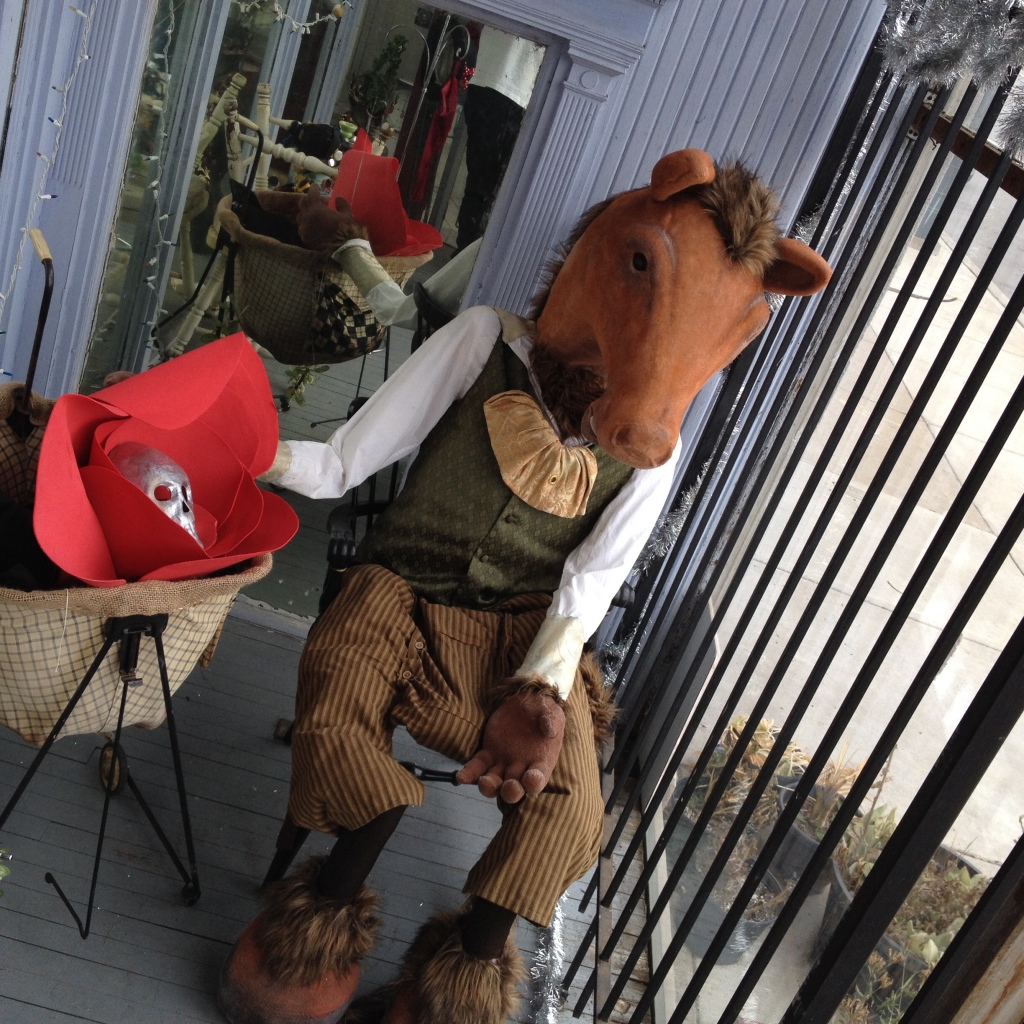 The Chevalier, for instance, is immense, a sculpted foam head atop a clothed and padded structure of PVC which made him remarkably light for his scale. A single puppeteer could probably work him, especially with a harness, but in "Under the Poppy," this rather naughty, bipedal pantomime horse appears in a play-within-a-play so is operated by three actors who are all quite visible to the audience. The Chevalier also has a rather impressive, ahem, "anatomical appendage" which made him provocative on-stage and, as rumor has it, quite popular off-stage for cast party hijinks and photo-opportunities. With one arm astride a cart and the other gesturing with an open palm, the Chevalier is ready to receive.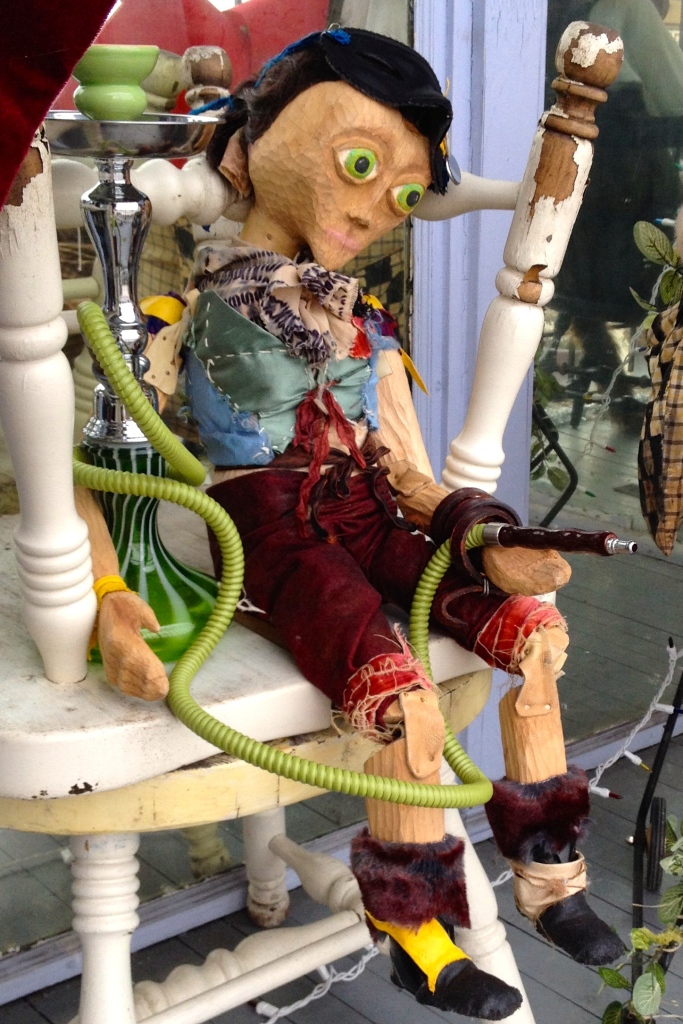 Pan Loudermilk, by contrast, is a very traditional, Old World-style puppet, as least as regards to his construction. His winsome green eyes suggest he's capable of great mischief as well. Pan's head and limbs are hand carved from solid wood and his joints are leather flaps, which give him both weight and gravitas. Though scaled to be a lap puppet, I suspect Pan is a venerable performer, a ringleader for the other puppets. For this display, Pan posed with a hookah pipe propped rather suggestively between his legs, offering a special kind of holiday cheer.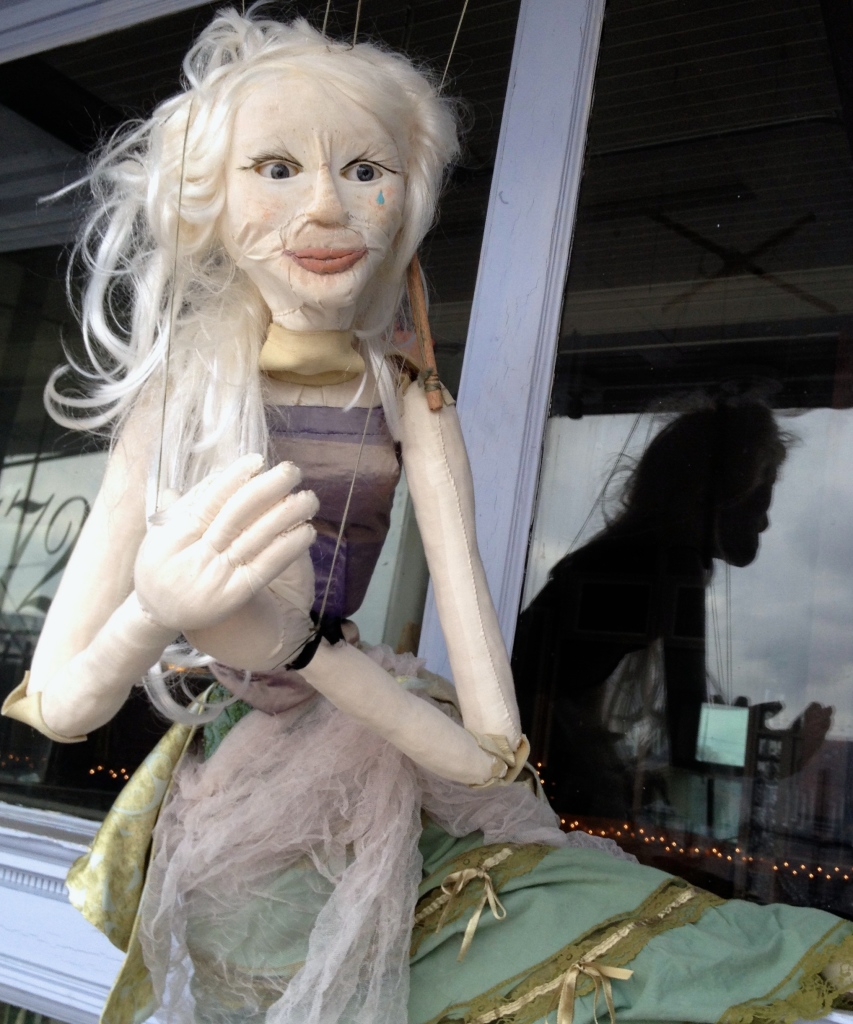 Lucinda is delicate and long limbed. Her expressive, pale face is hand-stitched cotton colored with just a touch of what I think might be rouge and graced by a single painted tear. Her anemic complexion, in fact, made me worry a bit about her health though she was certainly in high spirits this afternoon. In "Under the Poppy: A Novel
," Lucinda played the alter-ego of Decca, one of the heart-crossed lovers but for our tableau, she was light and limber enough to sit on a ledge and oversee the whole scene. Up close I noticed that she likes to hold the sticks that control her hands, as if asserting self-determination and independence. Don't we all, dearie, don't we all.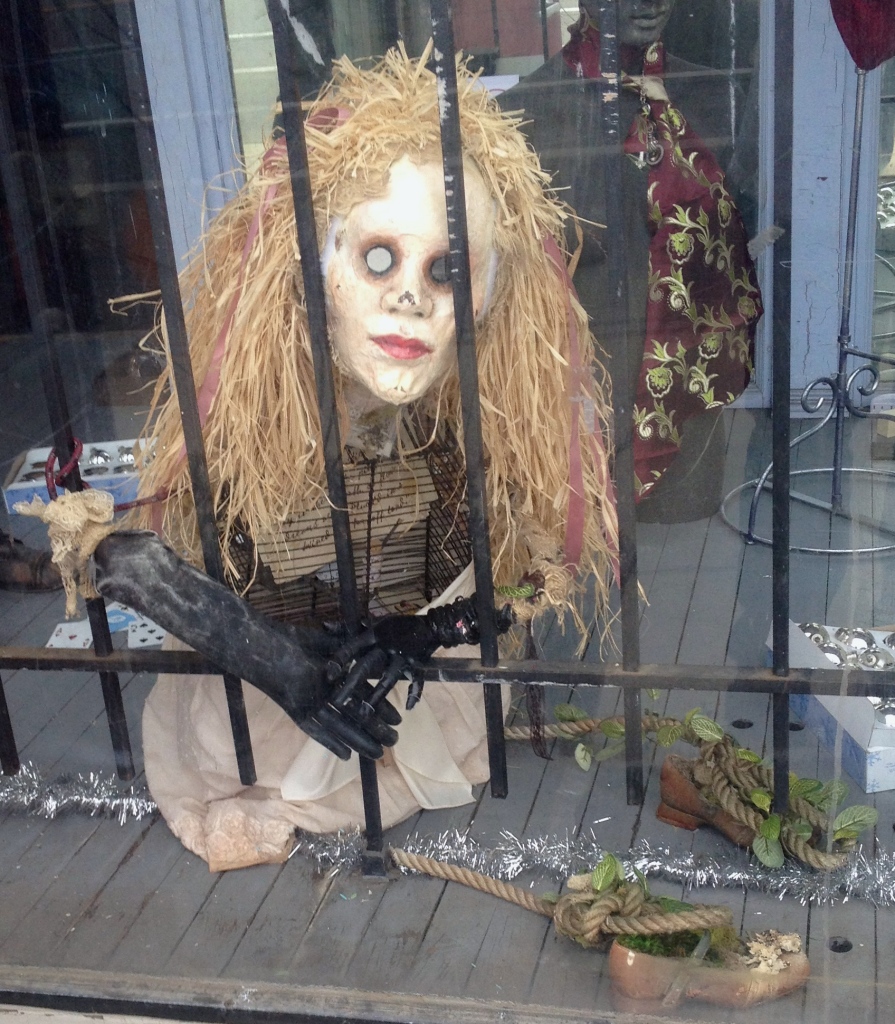 Alice struck me more as a celebrity than a performer, more an objet d'art than a "puppet," alluring of course but slightly more aloof than the others. Though we attended the opening of Alice, I hadn't fully appreciated the subtleties the eponymous figure at the performance. Alice's hair is an unkempt mop of ruffled straw and her face is rather realistically sculpted apart from the perfectly round mirrors she has for eyes which are deep set and smoldering. Though it's rude to stare too long at an actress' chest, I did notice that her torso is a cage containing an open book. For this scene, Alice directed that penetrating gaze of hers out the window both inviting and confronting passersby.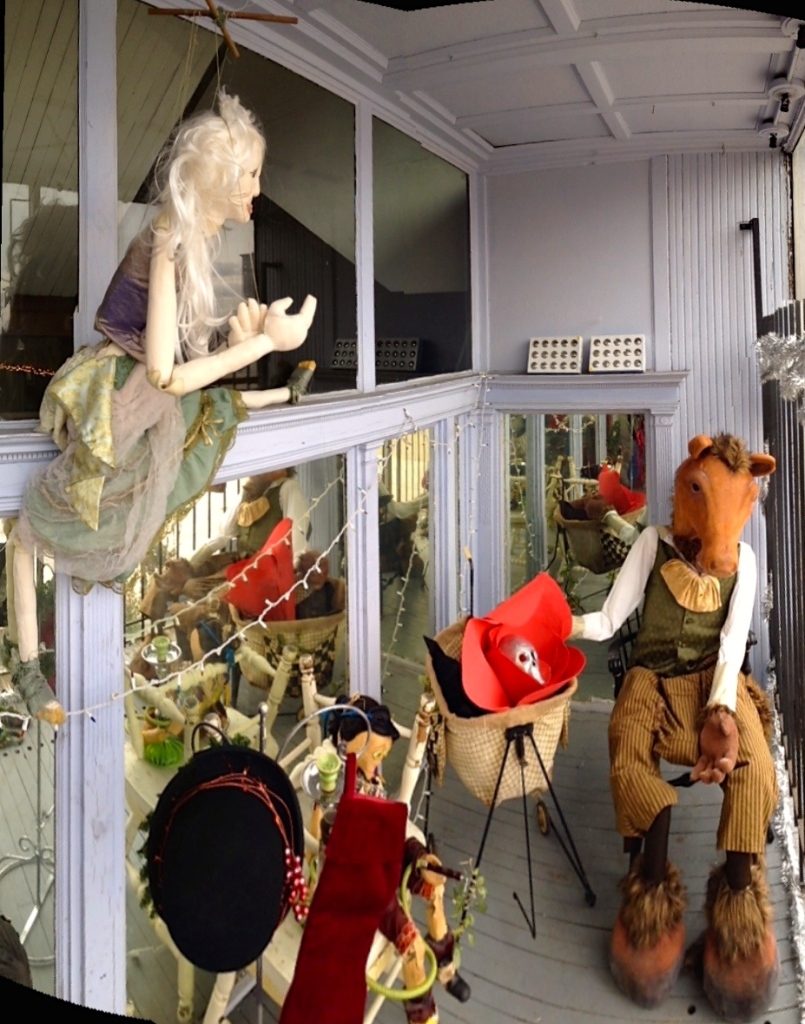 A bit of set dressing with tinsel and playing cards, silver balls and stockings, and the tableau was complete. Even before we finished, folks were stopping to look in the window and wonder at the display. While you may have been battling crowds for Black Friday, Elsa and I were rubbing elbows…and legs, heads and forearms… with avant-garde performers. Many thanks to Kathe and Nerve for yet another weird-thrill date.