Jessica Tenbusch makes classy, slightly creepy metalwork that explores death as a creative force. Her Etsy shop was temporarily closed this weekend… likely because she took her one-of-a-kind stock to the DIYpsi Indie Art Fair. Seriously, one of the few things I actually like about the holiday season is the proliferation of such tiny temporary artist markets where I'm able to encounter the work of local artists. The quality of this particular bourse was quite high but my favorite booth here belonged to Jessica Tenbusch, due to both her artistic craft and her subject matter.
For her jewelry, Jessica casts animal bones in precious metals, from tiny mouse vertebrae mounted on stud earrings to possum leg bones as pendants. The scale of these delicate pieces retains the attractive organic feel of their models while avoiding an overly "Hallowe'en" feel. Still, I gotta note the silver pieces would look particularly good with a black dress.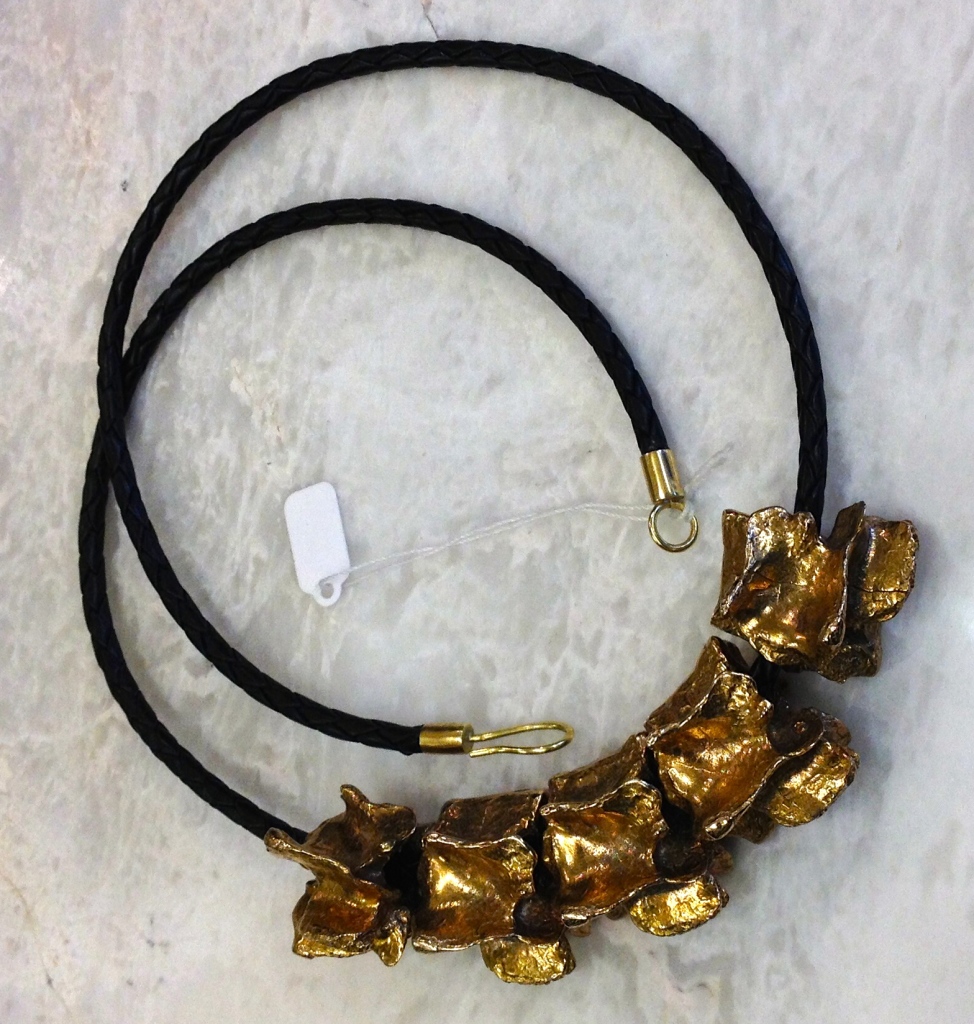 My personal favorite of her wearable memento mori was a necklace where the "beads" were brass vertebrae as thick around as my thumb. It was a solid, commanding piece.
Jessica, a recent graduate of the EMU MFA program, knows many clever ways of coaxing metal into beguiling shapes and the breadth of her skill is more apparent in her sculpture. I got a chance to look a bit closer at two of these pieces.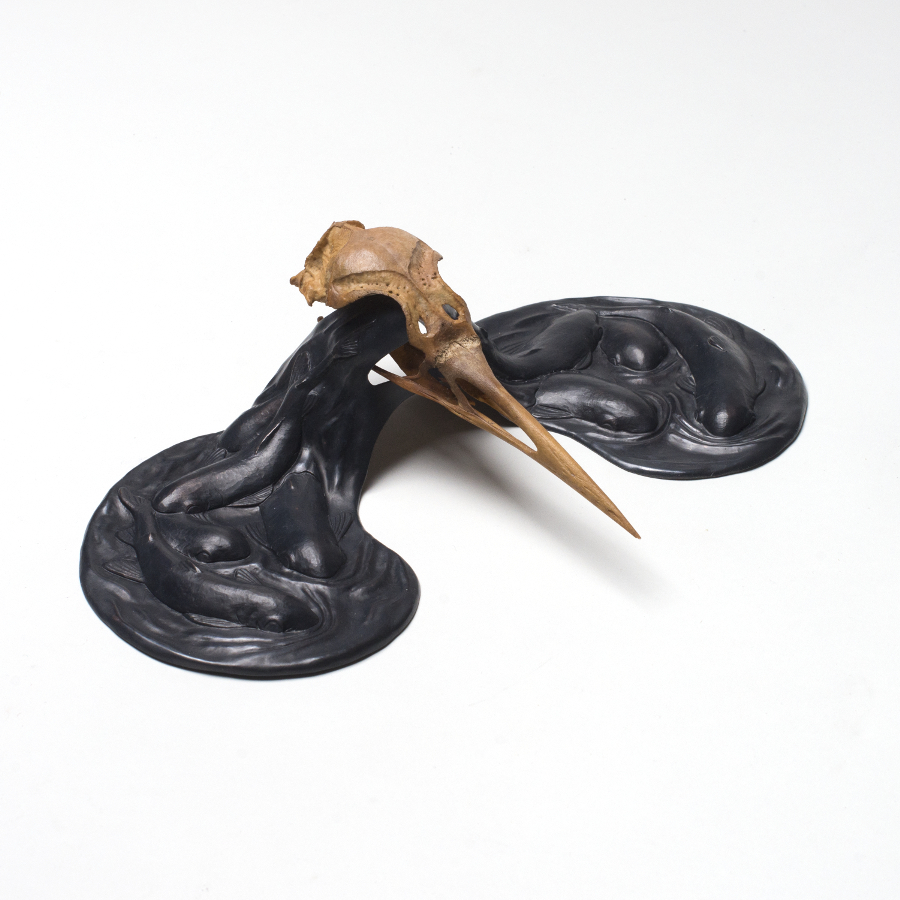 Jessica Tenbusch — Loon
(http://www.jessicatenbusch.com/2014/6/13/loon)
The first thing I noticed about "Loon" was, of course, the skull but I was drawn in by what appeared to be a black liquid pouring from the eye sockets. This substance was actually hand-worked copper, gracefully shaped to appear fluid. Jessica taught me the word for this technique– repousse. The surface of this darkly patinaed copper, depicted what looked like fish cresting the surface of a lake. The sense I got from this piece was of a bird who had passed beyond this life and who was just able to release the ceaseless search for food which had preoccupied its mortal existence. A farewell to its life-work.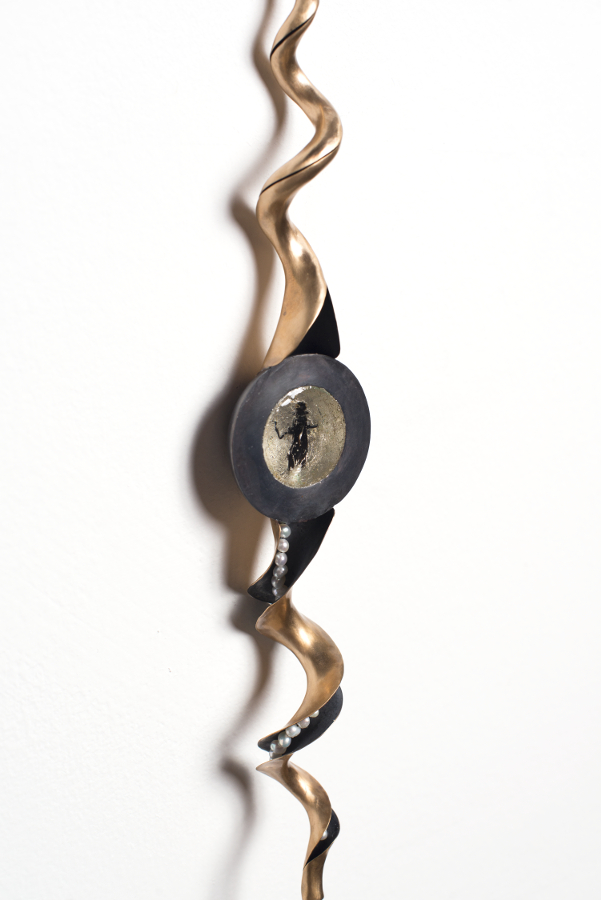 Jessica Tenbusch' — Ovipositor
(http://www.jessicatenbusch.com/2014/6/13/ovipositor-1)
Her wall mounted piece, "Ovipositor" featured a different creature, a different life-transition and a different technique — anticlastic raising — which works the metal from both sides to create graceful spirals. A wasp centrally placed in what read as a resin nest is posed in between two shiny copper corkscrews that, to me, recalled the creature's sting. The lower curl gently unravels to reveal a string of pearls, the eggs of the title. This piece seemed a nearly wry commentary on the pain and travail associated with sex and procreation. I am possibly reading too much into these pieces, but the joy of art is the continuing play and reflection they spark.
Any reader here knows I am a great fan of bones, those remarkable sculptures we carry around inside us. They are extremely functional, quite beautiful and too often overlooked. What I appreciate about Jessica Tenbusch's work is how she references such organic shapes while using durable materials, thus transforming these transient bits of our hidden, mortal lives into pieces that are solid, permanent and worthy of reflection.