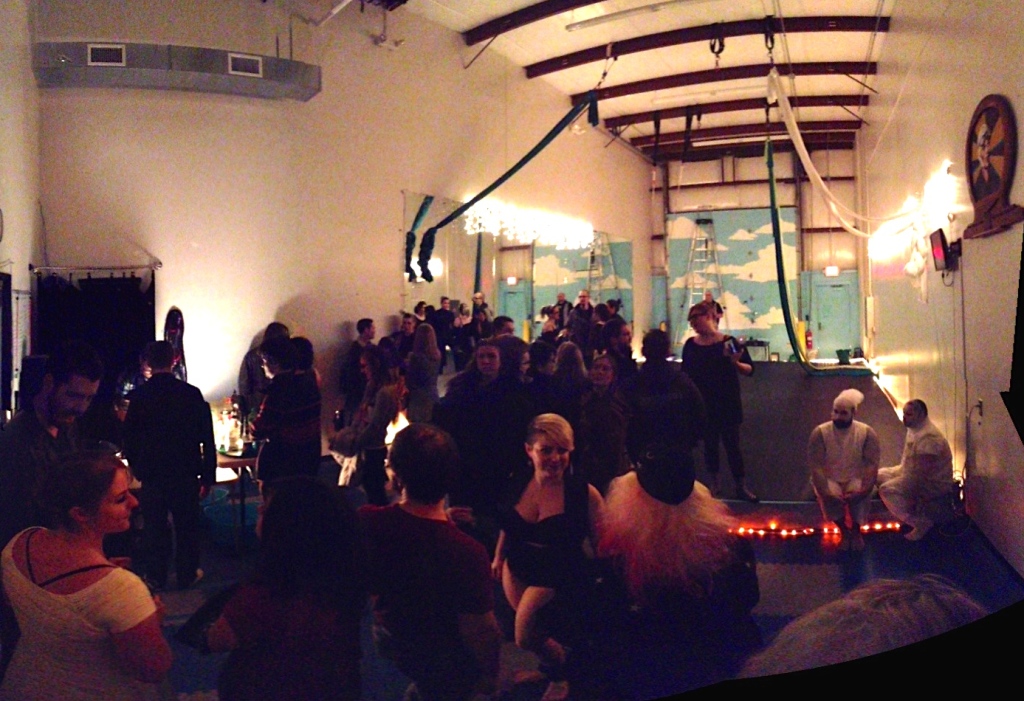 At the A2 Aviary Lift Off last weekend, I learned you don't have to run away to join the circus. The celebration of "Found Family" was half-rent party / half wonderfully weird recital that ran the gamut from trapeze, lyra and silk work to burlesque, belly and butoh dancing. The affair was intimate, with nearly a private speakeasy feel, as attendees crowded the rehearsal space near the Ann Arbor Airport. Fortunately, Elsa had been tipped off to the proceedings at her burlesque lesson with Luna Legare, one of the Aviary's ringleaders.
The A2Aviary is not your average dance studio, even from first glance. Below a wall of mirrors is foot of industrial strength padding, and suspended from the girders above are long bolts of brightly colored fabric. From the walls, folksy paintings of aviators and astronauts look on encouragingly.
The terrestrial entertainments were hardly mundane. The burlesque was top rate, as to be expected. Gala Delicious was regal, as usual, commanding, nearly aloof in flowing chiffon… that is, until she wore much less. Luna Legare led her "Lunettes" through a routine of joyously enticing tease. Wanna know if you have what it takes to take it off? Try a class starting in January.

But you had me at
Butoh
. Seriously, that disturbingly contemporary style of theatrical movement scratches all my performance-based itches. The piece we saw depicted longing, resentment, personal transformation and awkward cooperation in the brutal, very physical gestures of ashen garbed performers. Wonderment well mixed with WTF.
But the evening really took flight with the aerial performances. Performer after performer soared above the crowd with little more than some fabric, a ring or a bar for support. As expected for a show at a rehearsal space, some of the performers were astounding while others were still learning the pleasures of self-mastery. For the finale, four performers flew simultaneously around the silks.
Okay, Doktor, you might ask, why is this review appearing on an ostensibly "horror" website? Let me count the reasons: fear of public performance, fear of heights, fear of flying not to mention homophobia and the fear of empowered female bodies. Yeah, that's a thing, I'm sad to say. These performers — our neighbors and friends — confronted such fears much like the heroes on the walls. This is the point of "fitness," isn't it, being fit to do something life affirming? Amaze yourself. Lessons start up again in January.
You wanted to fly as a child, didn't you? What's stopping you? Thanks to the A2Aviary, you don't have to run very far to join the circus.