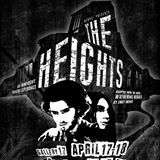 Expect to get your hands dirty if you were lucky enough to score tickets to "The Heights," the latest production by Nerve, the Detroit based performance company. Nerve productions typically immerse audience members inside the playing space, and their adaptation of Emily Brontë's Wuthering Heights is no exception. Ticket numbers are limited to allow participants space to roam the "urban moors" that Nerve has constructed at Gallery 17 in the Russell Industrial Complex. The run is extremely limited as well, just four performances, April 17 and 18, 24 and 25. (Tickets might still be available here.)
Any reader of the DailyNightmare really should be familiar with Brontë's tale of stormy gothic passions, of sex and death and ghosts… though I confess I wasn't. To prepare for the show, I listened to the free audio version available from Librivox.org. I am also prepared, however, to have a unique experience apart from a "traditional" reading of the text. Nerve has pared the tale down to its most vital spine to sharpen the essential question "…should we do the right thing or the real thing?" The drama is enacted by Steven Xander Carson, Rachael Harbert, and Marisa Dluge.
If you are wondering what to expect from the performance, Nerve's mission statement provides some hints: "We define success as sensation. We take space and use it. We make consensual art. Our audience is everywhere." From attendance at previous productions, we know Nerve's "consensual art" invites but does not require the audience's participation, yet the magic of the performance is enriched by the attendees' willingness to play. The final alchemy of the event is more easily experienced in person than explained in abstract.
Nerve is (in)famous for its puppets, and I'm told several constructed actors will appear in this production as well. I'm curious how they will fit into this production– and the only way to find out for sure is to be there, but here are some previews:
Fair warning: all tickets must be purchased in advance, so if you want to wander these urban moors this spring, you'll need to plan ahead. In fact, act right now.