The Three Corpse Circus, that annual festival of international short horror films, is rolling into Ann Arbor this week with several days of entertainment.
The Big Top event, so to speak — a whole day of short horror — happens on Sunday, October 5th at the historic Michigan Theatre. The Opening Ceremony kicks off at 2pm, followed by a block of films; the "Animated and Weird" films begin at 5pm and "Grindhouse II" block starts at 8pm. This year, the delightful marionettes of Dreamland Theatre will be performing in the lobby. Tickets are on-sale now and at the door.
I've viewed some of the offerings and I can honestly say this is the best crop of submissions thus far. The Three Corpse Circus show on Sunday will feature 30 films from 13 countries– the Corpse's widest reach to date.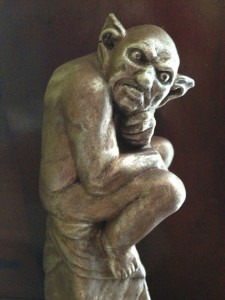 I'll be on-hand –wearing my purple suit– to award the second annual Impy Award for cinematic excellence. This prize is a handsome statue by sculptor Jeremy Haney plus a cash award. Wanna know who wins this year? Take your seat.
But there's also a long midway of fun leading up to the festival.
On Thursday the 2nd at Bona Sera Underground in downtown Ypsilanti, the festival kicks off with Terrors & Treats, a free showing of highlights from the first 5 years of the Three Corpse Circus and party.
On Friday, Oct 3 at 7pm, Three Corpse Circus and the B-Side present Lights Out, ahorror film festival followed by music with Byrdrock and Tek-Mazter. Admission is $5, but the first 25 people get in free.
On Friday at midnight at the State Theater, the Three Corpse Circus will present a MIDNIGHT SHOWING of Spanish-language horror shorts in their Circo de Tres Cadaveres Extravaganza! For some reason, Spain has been cranking out inventive, twisted visions and this program will give the audience a peek into that storehouse. I have always depended upon the kindness of subtitles.
Saturday at the State Theater at 1:15pm , 3CC will sponsor the showing of its first feature film, The Runaway Day. This is NOT a traditional genre "horror" movie, though this movie from Greece promises to leave the audience chilled and mystified.
On Saturday, at midnight, follow the Circus to the State Theatre for another MIDNIGHT SHOWING of splatter films. I am normally NOT a fan of this sub-genre but I've seen a couple of the pieces that will be screened and I'm impressed. A low budget sometimes forces a clever take on stunts, special effects and cinematics. Prepare for cringes and chuckles mixed in with this block.
For more details, check out the Three Corpse Circus on the web and on Facebook. The Circus comes to town but once a year — get your tickets and settle back for a great show.