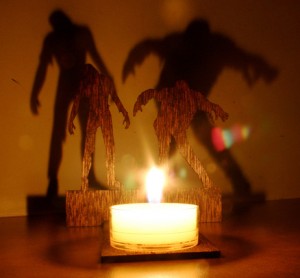 If you sleep with the light on because you're worried about the imminent zombie uprising, then I'm no so sure this product is what you're looking for. Others though may find delight in this votive candle holder that casts shadows of zombies on the walls. The perfect ambiance for telling tales of the undead.
( http://makersmarket.com/products/574-brraaaiiinnnnss-zombie-shadow-cast )
The same crafty manufacturer produces a similar product that casts the shadow of Godzilla.
( http://makersmarket.com/products/607-godzilla-meets-big-city-little-lights )