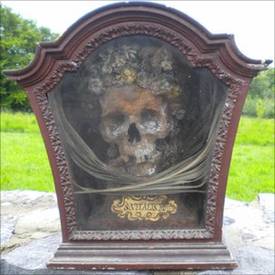 They don't make souvenirs like they used to.
The BBC reports (http://www.bbc.co.uk/news/uk-northern-ireland-13522546)that up for auction this week is a human skull complete with hand-crafted display box. It likely came to the British Isles from Europe under the arm of some young landed gentry during a Grand Tour of the continent. "Grand Tour" was their loftier version of "Spring Break."
There are rumors that it's the head of a saint, perhaps Saint Vitalis of Assisi, the "Saint of Venereal Diseases" but that's not the key part of the story, for me at least. I believe the auctioneer said it best himself "….it's certainly the head of someone." Indeed. It's a HUMAN HEAD and it's FOR SALE. Oh and the box looks cool as hell. It would look perfect atop the antique spinet I inherited from Aunt Gertrude.
I can't bid on this item-a bit short on cash. But I take some comfort in a classic line from The Big Lebowski "You want a toe? I can get you a toe." When I have the money, likely there'll be a dessicated relic on the market somewhere in this wonderful, global economy.