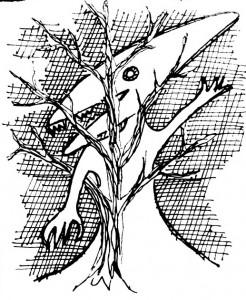 (Male, 40's) This was definitely a nightmare and it seemed so real at the time. Honestly, it seemed real while I was dreaming even though this is all going to sound pretty crazy.
I was at work, though for some reason the office was set up in a house. The house was on a normal suburban street but the back yard was a graveyard. The grave stones started right outside the back door. The other strange thing was that it was night. I was working at night with someone else, someone I don't really work with.
Whenever there was a computer glitch or problem, it manifested itself as an image on the screen. Mostly they looked like decaying humans. Ghosts, I guess.
The guy I was working with got tired which was understandable because for some reason I knew it was about 4:00 AM. He went to take a nap on the couch in the living room. And about that moment, there was a knock on the back door. I looked out the window and there were three of the ghosts that appeared on the computer screen. They were full sized human ghosts. For some reason they couldn't come in, even though I had opened the door. Towering in the trees was another ghost, a monster about as tall as the roof. It looked like a minature Godzilla. Needless to say, I closed the door.
Then there was a knock at the front door. I opened it, thinking that the ghost wouldn't be able to come in. But this ghost walked right past me and went over to my co-worker who was sleeping. I think it must have possessed him – or something – because the guy woke up and ran outside terrified. I ran outside to chase him. or at least warn him that there are ghosts all around. I had to wrestle him down because he seemed quite panicked or perhaps determined to cause himself harm.
Then we heard the pterodactyl.
It swooped in and attacked this guy. We hid around the base of an apple tree. The guy was totally useless. I tried to keep the tree branches between the Pterodactyl and us. Every now and then the monster would reach out with this long bony claw and try to grab us. For some reason, I figured that it was just basically a big bird and there fore it's bones must be light, hollow in fact. Therefore, it would be easy to break them. None of that is rationalization after the fact. I very clearly remember going through that thought process inside the dream.
So the next time the monster reached out to grab me, I grabbed it by the forearm and tried to crack its wrist against one of the branches. I didn't succeed but I Knew I would. Eventually, if I could just keep that panicky co-worker safe – I'd be able to beat that dinosaur.