I was robbed by a pirate while I was in New Orleans this weekend for the Bram Stoker Award Weekend/ World Horror Convention.
I should explain.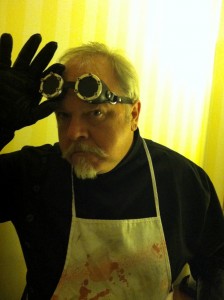 The World Horror Convention is a trade show, more or less, for folks involved with scary stories. Writers take meetings with their agents; writers pitch projects to editors; writers read for other writers. For most of the weekend, everyone is on their most professional behavior, looking all business-like and serious… with the exception of the Masquerade Party on Friday night. I need little excuse to dress oddly so it didn't really matter that the prize for the best costume was a Kindle. I lie. When I learned of this prize, vowed to win it. The game was ON.
I developed a costume to express "Doktor Leech," the personna I've adopted for my posts at DailyNightmare.com. I acquired a genuine Mad Scientist coat, technically a "Howie Coat" of black twill from Gentleman's Emporium. On my hands, I wore my riding gauntlets from back in the day when I rode a Harley. My blast goggles were lovingly hand-machined by the folks at Got-steam.com.
But the bloody apron was the key to the whole costume.
I work at a high school where one of the teachers runs an innovative science elective based around Forensic Science, sort of CSI-High. Students learn biology and chemistry and… well, they also learn a fair bit about decay and fingerprints and death. The crime scene dioramas they come up with would make your hair curl. I enlisted the demented enthusiasm of these juvenile bloodstain experts in making my costume.
I got four clean white aprons and divvied them between the two classes. This is the introduction I gave to my young assistants:
"This competition among the Forensics classes is to use your knowledge of blood spatters to create a gory apron for use in a Horror/Steampunk costume. The winning group will be awarded a pizza lunch and the aprons will be evaluated according to both their theatrical utility and their forensic accuracy.

The character I'm creating is a Victorian era "mad scientist" who dabbles in then-popular practices of magnetism, mesmerism and of course, vivisection. Victorian scientists were crazy about vivisection, the act of cutting open creatures while they were still alive to see how they worked. The stains on this apron likely come from such grisly experiments. A couple points come to mind that may influence your creations:

• Since the vivisection was performed on specimens that at least started out the procedure alive, the spatters should be consistent with that state;
• The Mad Doctor has likely been at this awhile so perhaps he started with smaller creatures and moved up to larger, more complicated ones. Humans? Probably.
• The tools used would likely be a surgically sharp scalpel but probably a bone saw as well. Punctures, cuts, hacking all would leave different kinds of marks on the apron;
• Bodies are filled with all sorts of fluids not just blood. Would any other juices have soaked into this apron?
• I suspect that this scientist has used the same apron for many experiments so consider if there is "old blood" in addition to fresh stains.;
• The scientist is probably working over an operating table which would likely influence what parts of the apron receive what kinds of stain;
• Remember this is a costume that I will have to wear around during a Masquerade Party. It wouldn't hurt if it looked cool as all heck.

Make your choices. Do your best and be prepared to explain why you made the marks you did. I look forward to what you come up with."
In the end, ALL the aprons were impressive so I bought pizza for both classes. I could only take one to New Orleans so I selected the one that had the most detail. On the apron I wore, the students used "blood," tea and finger print powder in order to simulate the "other fluids" encountered during the Mad Doktor's investigations. They also figured the Doktor might have gotten his fingers bloody and thus wiped them down the sides. These young Quincy's also assured me that there were stains consistent with punctures and sawing and more processes than I cared to imagine. Most importantly, it looked cool as heck.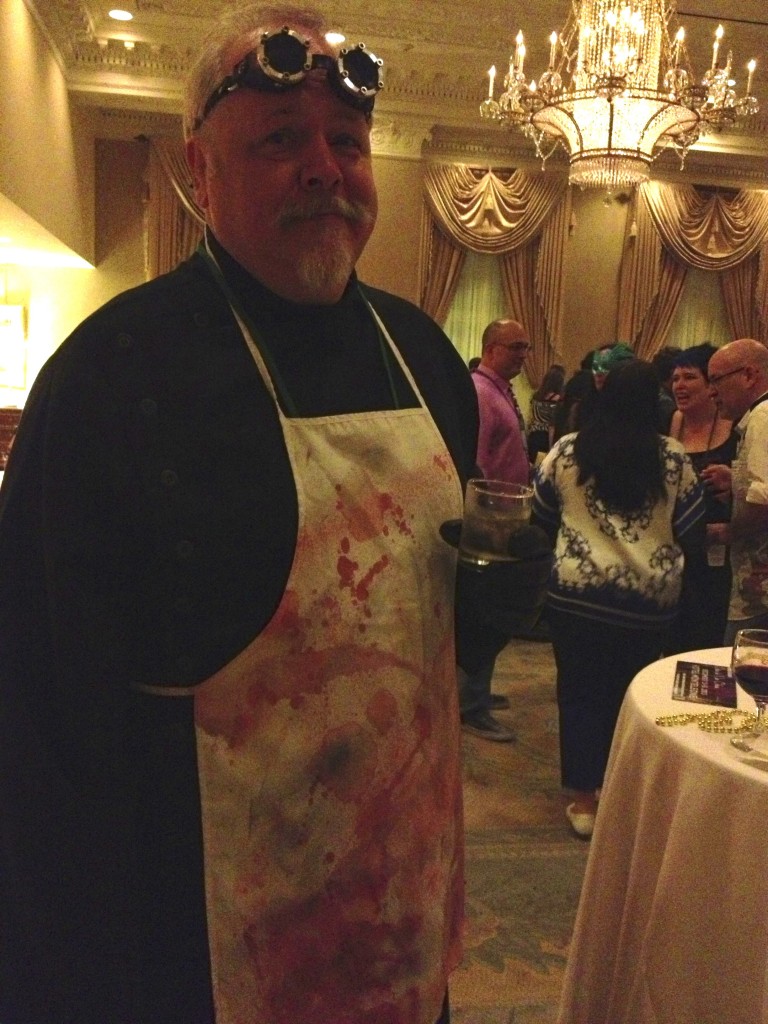 Once I got to NOLA and WHC2013, I acted the part of a horror professional all day, then just in time for the masquerade competition, I transformed into the Doktor. In my opinion, there was no contest. A couple men wore t-shirts; a few women wore corsets. I was ready to win… until two guys walked in dressed head to toe as pirates in full regalia. They were simply jaw-dropping. I grinned and made the best of it, but I knew it was all over. I danced, I flirted — who knew that blood was sexy?– and I had a great time anyway.
Though I didn't walk away with a Kindle, I did get a bit of a reputation. For the rest of the weekend, complete strangers referred to me as "that bloody guy." And that was kind of a success.