Raw Dog Screaming Press Writer's Retreat
. Elsa and I knew we had to crash the proceedings, especially after
receiving the recent haul of books from this quality publisher of strange literature
.

Our trek to the
Bourbon Ridge Retreat was
itself a writing prompt. Elsa's cell phone got us to end of the highway before reception cut out completely. We had to resort to printed instructions, ones made difficult to read by the encroaching nightfall. A gentle fog rolled in on cue as we drove winding roads with whimsical names like "Clay Lick" and "Honey Goat Run." The stray rays of our headlights illuminated signposts to ominously wholesome diversions, the wreckage of ancient barns, and the glowing eyes of creatures we took to be deer but perhaps were, in fact, these legendary "honey goats." At one point, our car was pointed down a steep, weed-shrouded drive, nose to nose with a hand lettered sign "Posted: Absolutely NO Trespassers." I wanted to take a photo but Elsa spun wheels in reverse. Eventually, we found the luxurious lodge and a warm welcome.
Raw Dog Screaming Press
publishes high quality work across many genres, taking delight especially in works that cross and confound genre expectations. From some of the best bizarro to horror poetry to hyper-real dark literary and beyond, RDSP produces lovely volumes of great writing. The retreat was a similarly high-class affair. The
Bourbon Ridge Retreat
was a perfect location. The hilltop location afforded remarkable views of the region. You know that part of Ohio flattened with turnpikes and deadened by national chains? Hocking is NOT that part. The area screamed "local color." The facilities were luxurious with just the slightest sense of "rustic" given by the knotty pine interiors and tasteful country-style decorations. Writers enjoyed a night-time dip in the hot tub. Very comfortable lounging space was generously arranged on all three floors, from the Great Room where I wrote my morning pages, to the intimate third floor alcove where I chatted with editor
Jennifer Barnes
to the lower floor's high-end rec room where we staged an impromptu reading on Saturday night. Rumor has it, others played an epic late-night game of Cards Against Humanity there as well. Elsa and I were grateful that RDSP opened this event up to serious writers not currently on their roster.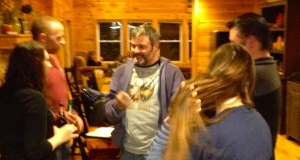 As befits a "writer's retreat," the weekend was both productive as well as relaxing. Folks ducked off to the lodge's many comfortable nooks to hammer out a draft or complete line edits, before cycling back to the nearly non-stop conversation that took place around the massive dining table. These discussions were the typical writerly chit-chat of networking news peppered with professional gossip, restaurant reviews and commentary on don't-miss TV shows. Food and drink also appeared on this table almost constantly.

Elsa brought a selection of Skull Pies and I raided the cellar to bring a dozen bottles of my weirdest home-brewed mead.

Jessica McHugh

concocted a killer cocktail, a "Dark and Bubbly," by blending my "Hearts of Darkness" black currant mead with champagne.

Stephanie Wytovich

brought conjoined twin gingerbread cookies… and aroused my suspicions by laughing far too heartily and frequently for a horror poet — do not be decieved: a dark soul lurks deep beneath that bubbly exterior. The words I shared with

Kealan Patrick Burke

were, for me personally, a highlight of the retreat. Though I knew nothing of his work before this weekend, he struck me as both charming and intense, quite possible possessed of true genius. I simply have to grab a copy of "The Tent," his novella set in these captivating hills. Horror writers sometimes project a dark persona but everyone here was a delight to meet, face to face.

All too quickly, the weekend was over. After a photo on the steps, Elsa and I departed amid hugs and promises to meet again at World Horror Con or another regional convention. Our deepest thanks to Raw Dog Screaming Press for arranging this retreat.

If you have the opportunity to hide out in the woods with fellow writers, even writers who obsess with death and torture, madness and monsters, don't be afraid. We save our worst for our writing.

Did you hear the one about the thirteen horror writers who gather at a secluded lodge, one with no cel phone reception deep in the wilds of Ohio, for a rainy weekend of word-smithing, camaraderie… and MURDER? Though perhaps a bit light on actual murder, this description fits the