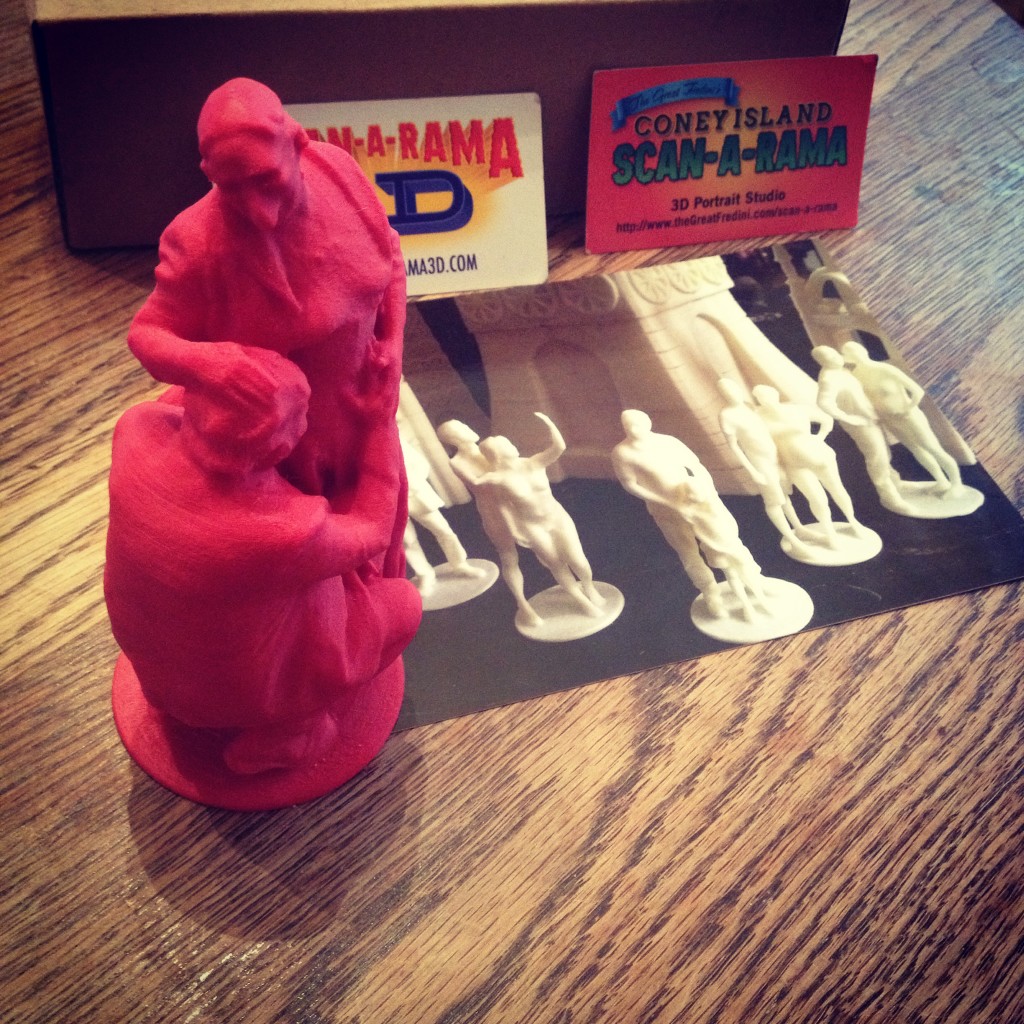 The Doktor and I have acquired quite a shelf of memorabilia from Theatre Bizarre, and my most treasured item is a 3-D souvenir portrait we had done at the 2014 Gala. True, the Doktor may have been temporarily more excited by the Saunders Bumpy Cake and he strutted like a peacock when he (finally) won a Zombo doll at the Feats of Skill, but a couple weeks later, when we received this hand-sized statue, we both were able to recall the glories of that special evening all over again. Many thanks to the Great Fredini who brought his Scan-a-Rama rig all the way from Coney Island to capture these memories.
The statue itself is bright red and made from hard plastic, roughly 5 inches tall and perfectly captures the weird get-up that the Doktor and I assumed for the evening. Honestly the scan is quite remarkable. The Doktor and I are fans of 3-D printing and in fact have been scanned previously using various homebuilt rigs, but never in full regalia. Fredini's statuette captured the nuances of our costume. It recalled for me the childhood glee of those coin-operated, wax-model machines that we popular in the 60's. (The Henry Ford Museum has a half dozen working examples BTW.) Our statue is a personalized remembrance of that delightful evening.
The scanning process was a particularly interesting experience. The Doktor and I stood on a rotating platform that slowly moved while Fredini's fabulous contraption scanned us. Sorry, no lasers, no tingling magnetic rays. We had carefully worked out a pose –the Doktor's adoration and my bemused benediction– but found it rather a challenge to keep from laughing… and to stay still after partaking of the Gala's open bar.
This is pure magic, of course, but not rocket science. A dedicated hobbyist could assemble similar equipment using off the shelf components. In fact, Fredini has even shared the plans for his rig publicly. The artistry comes in when it comes time to print the 3-D scan. Our printed statues are smooth, entirely lacking the jaggies of low-resolution, hobbyist-grade 3-D printers. The details are soft but expressive. (How did the Doktor convince me to wear a mask with such a big nose?) Fredini is using figures like these to populate a scale model of the entire Luna Park amusement park at its heyday.
At its core, Theatre Bizarre is a glorious expression of weird ingenuity, from its genesis as a renegade backyard amusement park to its full-flower at the Greatest Masquerade on Earth. It seemed appropriate on a couple levels that the Great Fredini of Coney Island fame was on hand at Theatre Bizarre 2014 to create 3-D portraits of attendees. Amusement parks were originally somewhat licentious excursions for young lovers to indulge in exotic fantasies and extravegant treats. Is there a better description of Theatre Bizarre? And what could be a more fantastic souvenir from that fabulous night than a 3-D statue of my lover and me?
Who knows what wonders will appear at this year's Theatre Bizarre! We can hardly wait to find out.